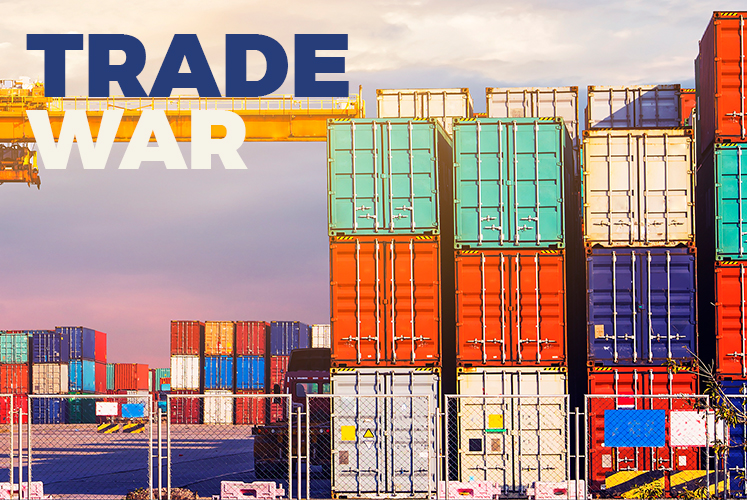 US-China trade spat affected Malaysia's 3Q GDP growth
KUALA LUMPUR (Nov 15): As the US-China trade spat continues to brew, it has adversely affected global trade and caused Malaysia's Gross Domestic Product (GDP) growth to decelerate to 4.4 percent in the third quarter (3Q) of this year.
Bank Islam chief economist Dr Mohd Afzanizam Abdul Rashid attributed the lower growth of 4.4 percent in the 3Q of 2019 from 4.9 percent in the previous quarter to external uncertainties which contributed to weak business and consumer sentiment domestically.
"The sharp deceleration in the private consumption growth has now normalised to 7 percent from 7.8 percent previously.
"Meanwhile, net exports growth was still at a double digit pace of 15.9 percent but this was merely due to further contraction in real imports of -2.0 percent versus decline in exports of -0.9 percent," he told Bernama today.
Mohd Afzanizam said with the current economic performance, Bank Negara Malaysia (BNM) is expected to cut another 25 basis points of its overnight policy rate (OPR) in the first half of 2020.
Meanwhile, MIDF Research said despite the GDP growth recording a drop, domestic demand remains resilient as the government is expected to impose further expansionary economic policies, particularly via monetary tools next year, while the service and domestic sector will continue to support economic growth.
"Even though the external sector would remain tough due to market uncertainty over the future relationship between the US and China, political instability in the European Union and flattening commodity price were among the headwinds affecting Malaysia's external trade performance," it said.
On Brent crude performance, the benchmark has been on a decline since Q4 last year, and in Q3 2019, the commodity price dropped by 20.2 percent year-on-year, the worst in the last three years.
"However, the agriculture sector is expected to improve in Q4 of this year and in 2020 following the recovery in crude palm oil prices due to steady demand from India and China," it said.
OCBC Bank, in its note today, said even though Malaysia's own domestic driver could help buffer the impact of the global trade uncertainties, the foreign situation is still the biggest swing factor, with unavoidable impact on investment and trade.
"While BNM appears to subscribe to the view that domestic growth remains largely favourable, it is still very much subjected to the ripple effect from global events," it said.
Earlier today, BNM said the Malaysian economy grew 4.4 percent in Q3 2019, moderately lower compared with the 4.9 percent growth in Q2 2019.
BNM Governor Datuk Nor Shamsiah Mohd Yunus attributed the GDP performance to the lower growth in key sectors such as services, manufacturing and agriculture, as well as a decline in mining and construction activities.