This article first appeared in The Edge Financial Daily, on September 14, 2018.
KUALA LUMPUR: Police said investigations into 1Malaysia Development Bhd (1MDB) have revealed that US$972 million or RM2.973 billion was deposited into former prime minister Datuk Seri Najib Razak's AmIslamic Bank personal account.
"A total of US$972 million, or RM2.973 billion, was found to have been deposited into the account of the person we are investigating through several phases," said Deputy Inspector-General of Police Tan Sri Noor Rashid Ibrahim.
The money was deposited into Najib's account by three companies, namely Good Star Ltd, Aabar Investments PJS Ltd and Tanore Finance Corporation, Noor Rashid told a press conference at Bukit Aman yesterday.
Noor Rashid said police have also detected 132 transactions of illegal funds connected to 1MDB and further investigations are on-going.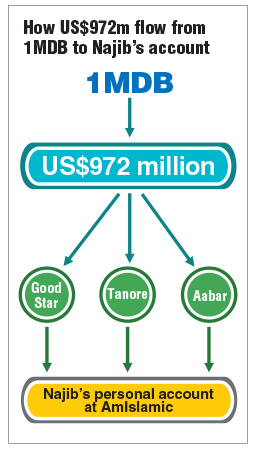 "We had identified more than 100 transactions involved, and we have also identified the individuals involved in receiving money from the transactions," he said.
More than 50 people within and outside the country received the money, he said.
"We have taken action to record their statements," he said, adding that they included several politicians.
"The investigations involved local and overseas witnesses and it is very difficult because it requires the cooperation of affected countries for it to be completed," he said.
Nevertheless, Noor Rashid said statements have been recorded from 64 witnesses, including Najib and his daughter Nooryana Najwa to assist in the investigations.
Noor Rashid said the police are confident of completing the investigation into 1MDB within one year despite the challenges to get testimonies from abroad.
"The chance of completing the investigation is good. We are confident we can complete the investigation. It's a matter of time which I cannot determine here. This depends on the other countries, they might have things to discuss at their level.
"We just hope that we will get the due cooperation from the countries involved," he said.
Noor Rasid said if the probe is not completed within a year the authorities would be open to legal action.
"But of course we will complete it by that time," he added.
 Noor Rashid also clarified that police can hold onto the cash and jewellery seized during 1MDB-linked money laundering investigations, for up to one year until May 2019, instead of three months as Najib has claimed.
"It is not an extension of time [frame], we have the time frame of one year under the law, and this ends in May next year.
 Earlier this month, Najib claimed that the seized assets must be returned if no charges were filed within three months of the raid being conducted.
In June, Commercial Crime Investigation Department director Datuk Seri Amar Singh Ishar Singh said the amount of cash seized from an empty apartment in the high-end Pavilion area in Kuala Lumpur amounted to RM114 million, which were denominated in 26 currencies, the bulk of which were in ringgit, US dollars and Singapore dollars.
 Najib has claimed that the money seized from the condominium belonged to Umno.
Noor Rashid, however, said that so far, police have not received any official request from any party for the return of the seized assets.