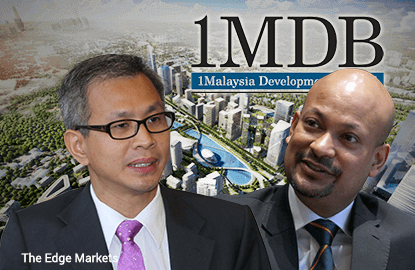 This article first appeared in The Edge Financial Daily, on April 15, 2016.
KUALA LUMPUR: Whether 1Malaysia Development Bhd (1MDB) sold its power assets at a loss is the latest debate between its president and group executive director Arul Kanda Kandasamy and Petaling Jaya Utara member of parliament Tony Pua. This may be a long debate involving accounting technicality.
In a statement yesterday, Pua maintained that 1MDB's power assets were sold at a loss and that US$3.5 billion (RM13.6 billion) worth of bonds, which were raised to purchase these power plants, remains outstanding.
1MDB raised debts of RM21.8 billion for the purchase of power generation assets and other purposes. The cash consideration of RM9.83 billion from the divestment, at least part of it, would have to be used for debt repayments. To recap, 1MDB only spent RM12.05 billion — RM8.5 billion for Tanjong Energy, RM2.35 billion for Genting Sanyen Power and RM1.2 billion for a 75% stake in Jimah Energy — for the acquisition.
For the remaining sum raised, US$1.4 billion was deposited into Aabar Investments PJS Ltd (Aabar BVI) in exchange for co-guaranteeing the US$3.5 billion bond issued with Goldman Sachs as the principal adviser. Aabar BVI is in the spotlight after International Petroleum Investment Co (IPIC) and its unit Aabar Investments PJS denied any dealings with the company. IPIC told the London Stock Exchange that IPIC and its unit did not receive any cash deposit from 1MDB. The investment fund acknowledged it had made total payment of US$3.5 billion to Aabar BVI between 2012 and 2014.
Arul Kanda on Tuesday conceded that there could have been fraud in the dealings with Aabar BVI.
Arul Kanda claimed that the divestment of Edra Global Energy Bhd for RM9.83 billion was near a "break-even cash-on-cash position". This is because the cash consideration of RM9.83 billion plus dividend of RM2 billion received from the power assets is almost equivalent to RM12.05 billion — the total that 1MDB paid to buy the power assets. With that, Arul Kanda concluded that 1MDB did not sell the power assets to China General Nuclear Power Corp at a loss.
But Pua refuted and said 1MDB incurred interest expenses of RM3.5 billion as it raised debts to buy the power assets.
In the statement, Pua highlighted that the Hansard of the Public Accounts Committee showed that Arul Kanda concurred that interest costs must be taken into account if 1MDB were to take into account the dividends.
Pua said he checked the audited accounts of 1MDB and Edra for the financial year ended Dec 31, 2013 (FY13) and FY14. He could not find any dividend payment to 1MDB in the audited accounts, according to Pua's statement.
All said, if there is a divestment loss of RM1 billion or RM2 billion, it may look negligible compared with the US$3.5 billion 1MDB deposited into Aabar BVI. Has 1MDB lost the entire amount, which it has to pay back its creditors sooner or later? And why did 1MDB raise so much borrowings in the first place?