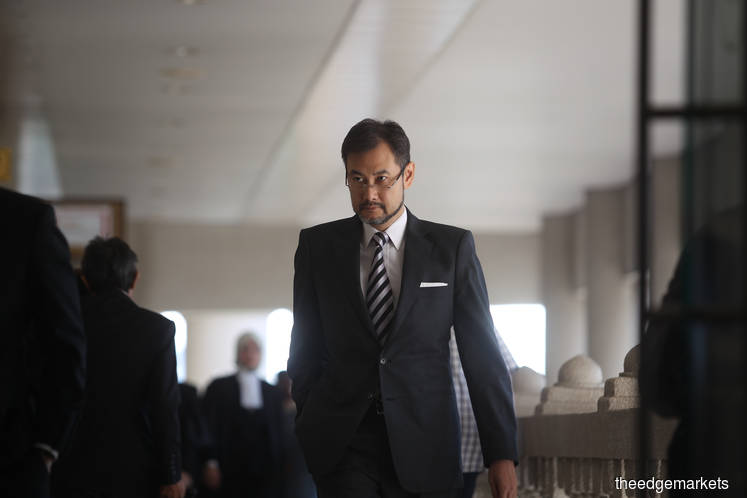 KUALA LUMPUR (Oct 21): The High Court was told today that the signing ceremony between Malaysia's and Saudi Arabia's heads of state for a US$2.5 billion joint venture (JV) involving 1Malaysia Development Bhd (1MDB) and PetroSaudi International Ltd (PSI) never happened, despite being the reason the deal was hastily done in the first place.
Lead defence counsel Tan Sri Muhammad Shafee Abdullah grilled the prosecution's ninth witness and former 1MDB chief executive officer (CEO) Datuk Shahrol Azral Ibrahim Halmi (pictured) on his decision to proceed with the JV despite directions from the board to initiate an independent valuation on PSI's assets.
According to a document produced by Shafee, the board had directed Shahrol to proceed with the negotiation — not with the conclusion — of the proposed JV with PSI on the condition that an independent valuer be appointed by 1MDB but is paid for by the JV company to value the JV company's assets.
However, the independent valuation was never done.
Shahrol, who was 1MDB CEO from 2009 to 2013, claimed that he was under pressure to execute the deal within a tight deadline as he understood at the time that the PSI-1MDB collaboration was a high level government-to-government initiative and was also the desire of the then Prime Minister Datuk Seri Najib Razak.
This understanding, Shahrol claimed, was relayed to him by purported mastermind Low Taek Jho, or Jho Low.
Shafee: When did you know the heads of governments were not attending to sign?
Shahrol: A day earlier (Sept 27, 2009).
Shafee: You should've have known reasonably ahead of time. You agree with me if Datuk Seri Najib could not make it, he would have given you ample time.
Shahrol: Yeah, but I was not in the PMO (Prime Minister's Office), so I wasn't in charge of his calendar.
Shafee: But you would know whether he was attending or not. Aren't you interested? This was a big day for you. You mean only on the 28th itself you knew he was not attending?
Shahrol: I was informed by Jho Low to get this done on the 28th, because he said that the heads of states will come. There was no information to the contrary until very close to the date, which was either on the 27th or the 28th. And that was what happened.
Shafee: Where was this agreement signed?
Shahrol: I signed my part in my office in KL, and Tarek (PSI CEO) actually signed it somewhere but not here.
Shafee: So all this pomp and ceremony didn't happen. It was just signed by two humble CEOs in their respective offices.
Shahrol: Yes.
Shafee: So there was no hurry?
Shahrol: There was a hurry in terms of that the reason for the hurry—
Shafee: (cutting Shahrol's reply short) I'm putting this to you, that this Jho Low character hurried this all for nothing. He just wanted to speed things up so he got what he wanted. Because the ceremony didn't happen after all. Didn't it occur to you?
Shahrol: At that time, no. At that time I took it on good faith that there were probably factors that I was not aware of that made this big signing ceremony didn't happen.
Eventually, the speedy joint-venture deal was signed by Shahrol and PSI CEO Tarek Obaid on Sept 28, 2009, only one month after it was first proposed in an Aug 28, 2009 letter from Tarek to Najib.
To make matters worse, Shahrol admitted last week that he signed the JV agreement with PetroSaudi Holdings (Cayman) Ltd, instead of PSI.
Note that 'PetroSaudi Holdings (Cayman)' is a different company altogether from 'PetroSaudi International'.
1MDB invested US$1 billion into the JV.
Najib, 66, faces four charges for using his position to obtain a bribe of RM2.28 billion in 1MDB and 21 charges of money laundering involving the same funds.
The hearing before Justice Collin Lawrence Sequerah will continue tentatively on Thursday.
The Edge is reporting the proceedings of the 1MDB-Tanore trial live.
Users of The Edge Markets app may tap here to access the live report.