This article first appeared in The Edge Malaysia Weekly, on August 26, 2019 - September 01, 2019.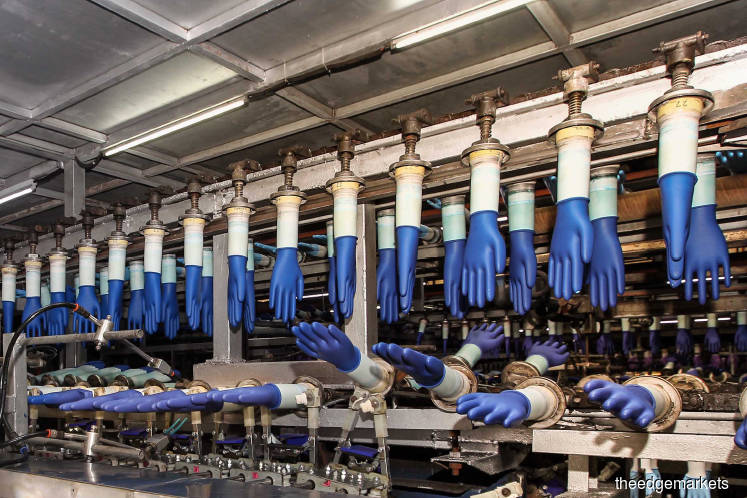 MALAYSIAN rubber glove manufacturers are set to reap the benefits if the US goes ahead and slaps a fresh round of tariffs on Chinese goods on Sept 1 as American companies and consumers seek cheaper alternatives.
Medical gloves are on the target list of products that will be subject to a 10% tariff. A 25% tariff had been imposed on non-medical gloves since May.
This has led many to believe the local glove sector is set to benefit from the trade diversion, given that China is one of the world's largest exporters of gloves.
China accounted for 11% of the US' total rubber glove import volume last year, Maybank Investment Bank Research said in an Aug 2 report on the Malaysian glove sector. Analyst Lee Yen Ling expects the trade diversion to take two forms — US healthcare distributors switching their supply source from China to Malaysia, and China rerouting its exports to Europe from the US.
Last year, Malaysia accounted for 66% of the US' rubber glove import volume.
Affin Hwang Capital Research analyst Ng Chi Hoong is of the view that Malaysian glove manufacturers stand to benefit from the additional 10% tariff as the pricing gap between natural, nitrile and vinyl — in which China is the top producer — narrows and thus, potentially encourages a switch over.
"[From now until Aug 31] American buyers are likely to increase the quantities of their orders from China in anticipation of the cost increase. Chinese medical gloves have around 10% to 15% market share in the US," he tells The Edge.
Nevertheless, analysts concede that the benefit from any trade diversion would only be for a brief period before demand-supply dynamics normalise.
"In the long run, we believe any surge in demand from the US will be offset by lower sales to other countries as China glove makers are likely to shift their exports to other countries to ensure there is no disruption to their production volume," CGS-CIMB Research said in a July 12 sector report.
Meanwhile, Maybank IB Research's Lee sees the possibility of glove players with a large exposure to the US compared with non-US markets reaping this temporary benefit.
Among the four large-capitalisation glove companies on Bursa Malaysia, Hartalega Holdings Bhd has the highest exposure to the US at 54% of its sales, followed by Supermax Corp Bhd (48%), Kossan Rubber Industries Bhd (45%) and Top Glove Corp Bhd (29%).
However, MIDF Research analyst Nabil Zainoodin says considering the upcoming 10% tariff on medical gloves in isolation, its impact is likely to be insignificant to Malaysian glove manufacturers. That is because China only produces 12 billion pieces per year of nitrile gloves, which are often used as medical gloves, compared with Malaysia's 102 billion pieces, he explains.
Notably, the glove sector has been dealing with an oversupply due to rapid capacity expansion. This has led to pressure on margins and affected average selling prices (ASP) in recent times.
AmInvestment Research believes the sector will see supply of gloves increase by 13% this year, although the expansion will be gradual.
Hence, any increase in demand would certainly help improve Malaysian manufacturers' plant utilisation, says Affin Hwang Capital Research's Ng.
However, Nabil does not see the oversupply issue faced by local manufacturers to be significantly eased by the 10% tariff because glove buyers have been stocking up before the tariff kicks in.
Inter-Pacific Securities head of research Pong Teng Siew says the overcapacity will take a few years to resolve.
"Glove manufacturers will have to slow down their pace of expansion, which they have been doing, and allow demand to catch up with supply," he tells The Edge.
Kenanga Research appears to be more optimistic.
In a July 15 sector report, it says the ASP pressure will fully sort out by itself within another quarter. "While pricing adjustments were made, there was a time lag of two months before the cost increase could be shared out with customers," adds the research house, which is overweight on the sector.
The share prices of glove makers have gone through a correction in recent times. Over the past year, Kossan has slipped 3.7%; Supermax has been the worst hit, falling 28.8%; and Hartalega and Top Glove have dropped 17.5% and 9.6% respectively.
However, Pong says valuations for the sector remain high at current levels despite the correction. The average price earnings ratio for the four listed glove companies stands at 27.53 times.
"There was an expectation of high-growth factored into the glove stocks previously. So, when their earnings growth didn't meet expectations, their share prices fell. I think investors have become a bit more cautious now," he says.
"I don't expect glove counters to fall further because many institutions hold shares in glove manufacturers as they are seen as reliable performers. However, I think investors' expectations of the stocks previously were unrealistic."