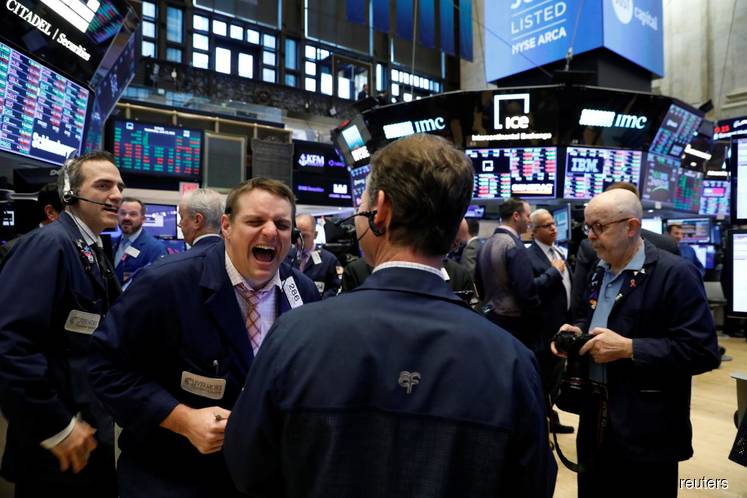 MADRID/NEW YORK (Feb 22): U.S. stocks rose along with Treasuries, as investors awaited results from top-level trade talks between America and China. The dollar fell.
The S&P 500 edged toward a weekly gain as President Donald Trump's scheduled meeting with China's lead negotiator on Friday afternoon, boosted hopes headway will be made before tariffs on some Chinese goods more than double on March 1. Tech companies led the advance. A plunge in Kraft Heinz shares weighed on the benchmark after the conglomerate announced a US$15 billion writedown and a subpoena from the Securities and Exchange Commission, dragging down consumer staples stocks and also Berkshire Hathaway.
The 10-year Treasury yield fell below 2.66%, while the dollar dropped against major currencies. In Europe, mining and technology companies lifted shares, and the euro was steady after data showed confidence in Germany's economy fell to a four-year low. Traders awaited European Central Bank President Mario Draghi's speech later Friday.
On trade, "if there were a very inflammatory headline, that could move markets significantly, however I think they know they need to get a deal here," said Matt Schreiber, president and chief investment strategist at WBI Investments. "We've had a very significant market melt-up here because they have managed the headline risk very well."
Markets are cautiously optimistic as U.S. President Donald Trump is  set to meet with China's top trade negotiator in Washington Friday, with the two sides facing a March 1 deadline to avoid a further escalation in tariffs. Expectations of an accord between the world's economic superpowers, combined with a less-hawkish stance from some of the biggest central banks, have sent an MSCI global gauge of stocks surging 15% in less than two months. Still, concerns about global growth persist.
Elsewhere, the pound weakened, even as the European Union's chief Brexit negotiator said he won't rule out a delay to the date Britain leaves the bloc. Emerging-market stocks increased for a fifth day, the longest streak since May, and a gauge of smaller Chinese stocks entered a bull market. West Texas oil rose above US$57 a barrel in New York.
And these are the main moves in markets:
Stocks
The S&P 500 Index advanced 0.4% as of 10 a.m. New York time. The Stoxx Europe 600 Index gained 0.1% to highest in more than 19 weeks. The MSCI Asia Pacific Index rose 0.2%. The MSCI Emerging Market Index rose 0.5%, rising for the sixth-straight day, the longest streak since May 14.
Currencies
The Bloomberg Dollar Spot Index fell 0.1%. The euro rose less than 0.05% to 1.1343. The British pound dipped 0.3% to US$1.3009. The Japanese yen was steady at 110.73 per dollar.
Bonds
The yield on 10-year Treasuries declined three basis points to 2.66%. Germany's 10-year yield sank two basis points to 0.103%. Britain's 10-year yield fell 5 basis points to 1.151%, the biggest tumble in more than four weeks.
Commodities
The Bloomberg Commodity Index advanced 0.5%, its fifth straight advance. West Texas Intermediate crude advanced 1.3% to US$57.68 a barrel, the highest in more than 14 weeks on the largest gain in a week. Gold advanced 0.2% to US$1,330.50.