This article first appeared in Capital, The Edge Malaysia Weekly, on December 30, 2019 - January 05, 2020.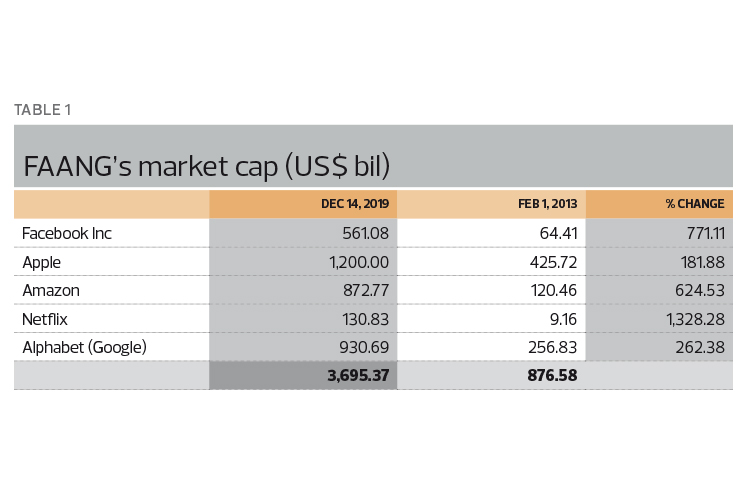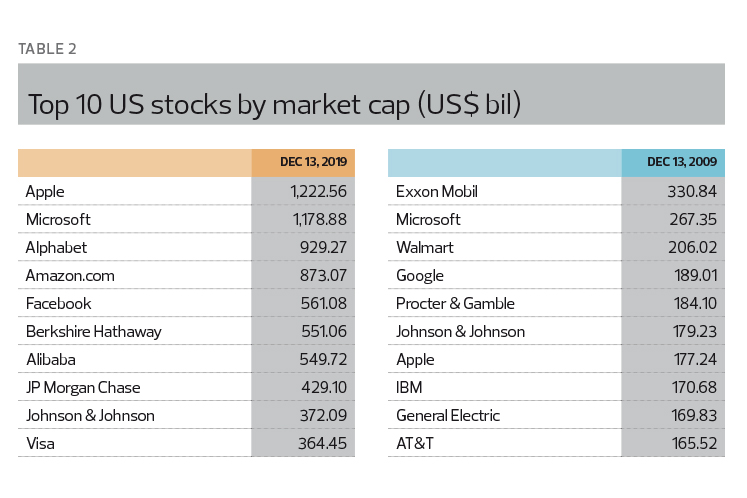 Click / Tap image to enlarge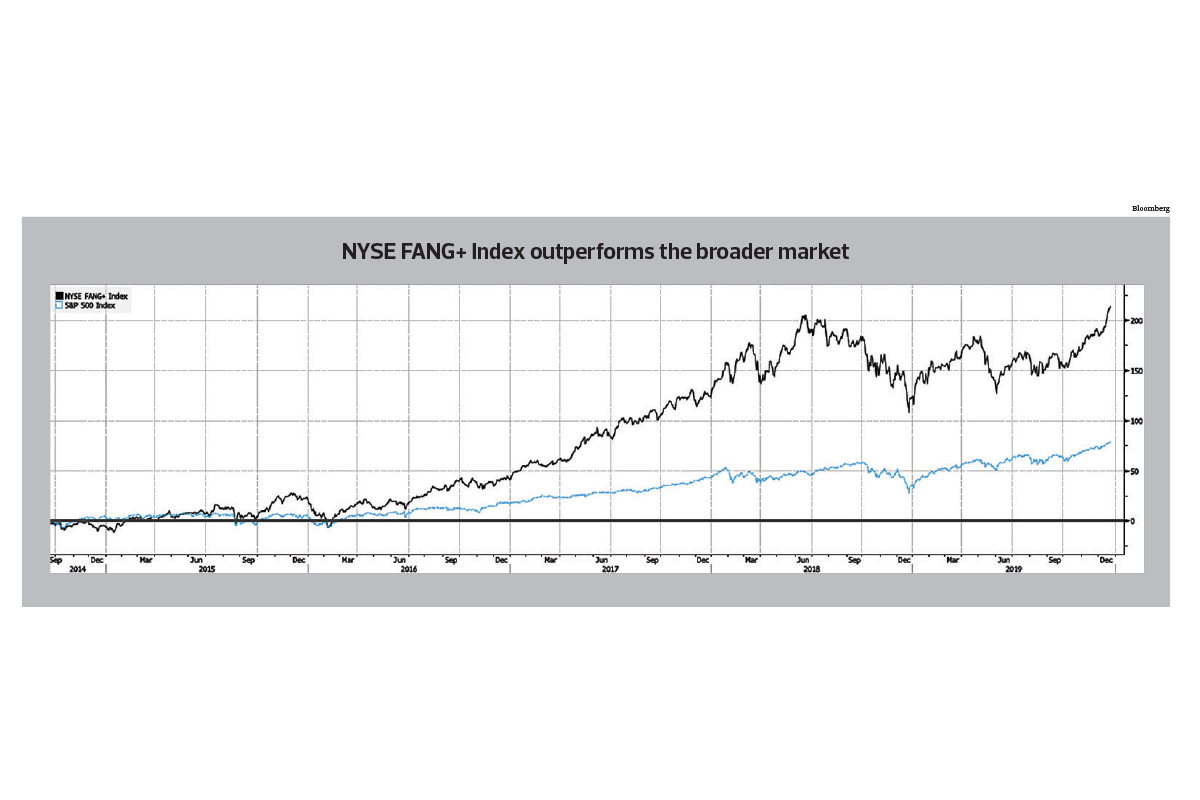 THE term FAANG stocks first emerged in February 2013, when Jim Cramer, the abrasive host of CNBC's Mad Money told audiences: "Put money to work in companies that are totally dominant in their markets, and put money to work in stocks that have serious momentum."
He was referring to technology stocks Facebook Inc, Amazon.com Inc, Netflix  Inc and Alphabet's Google.
Apple Inc was subsequently added, making it FAANG, and the five stocks have had a huge impact, not just on the investment landscape but also in the daily lives of people everywhere. As Cramer indicated then, these companies represented the future.
Those who took his advice should be very happy as the market capitalisation of FAANG has grown from US$876.58 billion in February 2013 to US$3.7 trillion by end-2019 and has driven the US stock market to record highs in recent years.
All five tech stocks are traded on Nasdaq and are included in the S&P 500 Index. Although they make up only 1% of the total number of S&P stocks, FAANGs were responsible for considerable gains in the index as both their weightage and share prices rose over the years.
The S&P 500 is weighted according to the value of each company. FAANG stocks' weightage doubled between 2013 to 11% in 2018.
According to Investopedia, in August 2018, FAANG stocks were responsible for 38% of the S&P 500 index's gain from its low in February.
Over the last decade, this group of stocks has driven the performance of the S&P 500 and were highly popular among fund managers given their earnings growth. However, by 2018, investors began to question if FAANG stocks were in a bubble, given their expensive valuations and outsized gains in share prices over the years.
In 2018, all five stocks declined by over 20%, falling into bear territory. And it is not just FAANG stocks that were hit by scepticism.
The NYSE FAANG+ Index, which comprises Facebook, Apple, Amazon, Netflix, Google as well as Alibaba, Nvidia, Tesla, Baidu and Twitter, had been underperforming the S&P 500 for the 12 months to Oct 31. The NYSE FANG+ has picked up since, outperforming the broader index for the year up to the time of writing.
Recent high-profile initial public offerings of tech companies have also disappointed. For example, at the time of writing, shares of ride-sharing app Lyft had declined 36.38% since listing in March while Uber is languishing at a third of its IPO price.
Co-working space start-up WeWork's listing was mired in controversy from the get-go as investors questioned its finances and leadership as well as its steep valuation. The IPO was eventually called off in October. CEO and founder Adam Neumann resigned and SoftBank, its biggest investor, took control of the company.
Some investors compared the frothy valuation of tech stocks to the dotcom bubble of the early 2000s. Back then, the Nasdaq index had risen fivefold between 1995 and 2000, fuelled by investments in internet-based companies whose profitability remained uncertain. The Nasdaq tumbled 76.81% from its peak of 5.048.62 on March 10, 2000, to 1,139.90 on Oct 4, 2002.
It would take 15 years for the index to reach its pre-dotcom peak again, in April 2015.
But some say that while FAANGs have been hobbled by recent issues such as shifts in contribution from business segments (Apple), privacy and regulatory concerns (Facebook), the future still looks promising for these tech stocks as they continue to grow in areas such as cloud computing, artificial intelligence, e-commerce, social media, big data and machine learning.
Meanwhile, with the share price performance of some of these tech stocks losing steam, investors are turning back to defensive stocks such as utilities and consumer staples. While the prospects may dimming for FAANGs, investors point out that the stock market will continue to prosper.
In the late 1990s and early 2000s, Microsoft Corp, Intel Inc, Cisco Systems Inc and Oracle Corp were dubbed the "Four Horsemen", and accounted for nearly 14% of the S&P 500's market capitalisation. These stocks were also behind Nasdaq's rise.Some eventually stopped climbing, but the S&P 500 continued to rise.
All the Four Horsemen are still on the S&P 500 today but only Microsoft remains among the top 10 stocks traded in the US in terms of market capitalisation compared with a decade ago (see table).
Microsoft's market cap has risen from US$267.35 billion 10 years ago to US$1.17 trillion as the group evolved from being just a software company to one offering cloud and social networking services. Stocks that are still notable names in their own right but have dropped off the list are IBM Inc and General Electric. Those that have climbed onto the top 10 but were absent 10 years ago are Amazon, Facebook (which was only listed in 2012), Alibaba Group (listed in 2014) and Visa Inc.
The ones with holding power include Apple, which was valued at US$177.24 billion as at Dec 14, 2009, but is now worth US$1.22 trillion, making it the most valuable company on the US stock market as at Dec 13, 2019.
It is not easy being at the top and Apple has been dethroned from its top position by others, namely Amazon, Microsoft and Google, over the last decade.
Other tech companies that have remained on the list are Microsoft and Google (now Alphabet) while non-tech stocks like Berkshire Hathaway, JP Morgan Chase and Johnson & Johnson also have staying power.
While tech stocks dominated this decade, reflecting the role technology has played in the economy, in the next decade, will the FAANGs still drive the S&P 500? Do they still represent the future?
Fidelity International was quoted as saying that the healthcare and pharmaceuticals sectors will see better growth, driven by demographic changes. Financial services players like Visa and Mastercard should also benefit from the "war on cash" while start-ups like Waymo and Space-X should be closely watched.
But believers in FAANG say they could still surprise in the new decade as tech trends could last 20 years, giving 5 to 10 more years of good returns to go.
It is also worth noting that FAANG stocks still have overwhelmingly "buy" calls on them.
As the new decade unfolds, it will be interesting to see which group will be proven right.