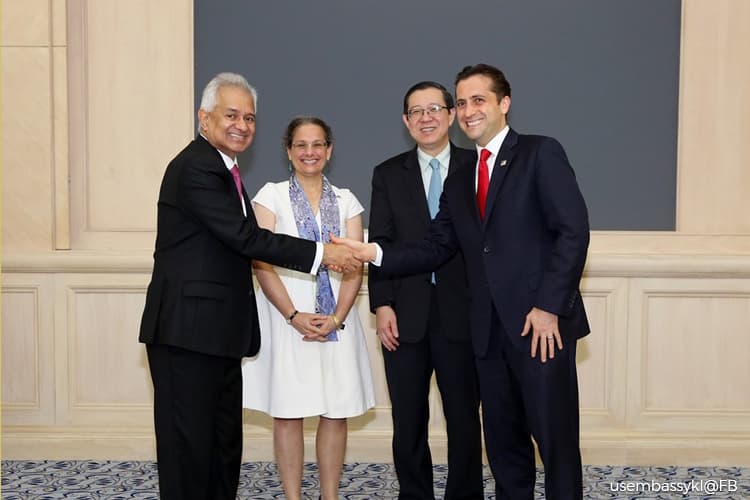 KUALA LUMPUR (May 7): The United States has initiated the process to return some US$196 million (RM812.9 million) to Malaysia, representing the first instalment of funds recovered from asset seizures related to 1Malaysia Development Bhd (1MDB).
In a statement on its Facebook page today, the US Embassy in Kuala Lumpur said its Ambassador to Malaysia, Kamala Shirin Lakhdhir, and Principal Deputy Assistant Attorney General John P. Cronan today met Minister of Finance Lim Guan Eng and Attorney General Tommy Thomas.
It said the first tranche of returned funds includes:
US$57.04 million (RM233.7 million) from Red Granite Pictures, and stems from a March 2018 settlement in California courts. This amount has been received by Malaysia.
The US Department of Justice is in the process of returning US$139 million (RM576.2 million) from the February 2019 sale of Manhattan's Park Lane Hotel. This amount is in the process of being transferred from the US to Malaysia.
Lakhdhir said the first tranche of assets from this Justice Department investigation being transferred to Malaysia demonstrated the US's commitment to return these assets for the benefit of the people of Malaysia.
"This is an important symbol of the cooperation between our two countries — a cooperation that demonstrates our shared commitment to good governance, combatting official corruption, and ensuring justice is served," she said.
For related story, see: US govt returned RM233.7m of 1MDB funds given to Red Granite, says AG