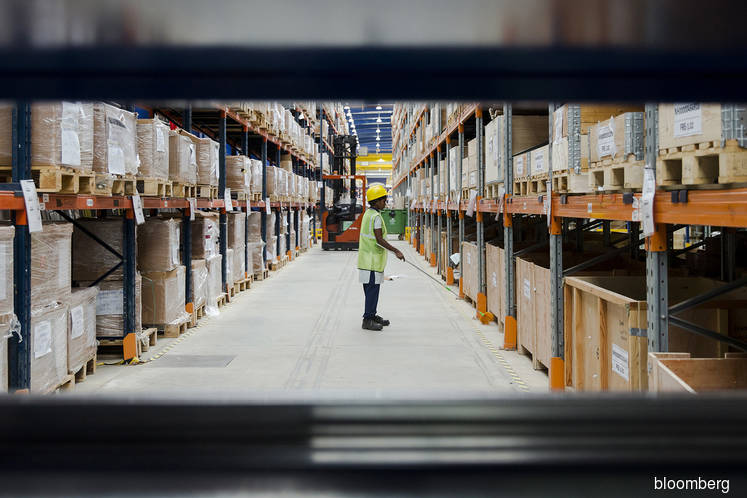 WASHINGTON (May 9): A measure of underlying U.S. inflation-pipeline pressures rose by less than forecast in April, suggesting Federal Reserve officials may need to await more data to validate their view that muted price gains will prove transitory.
Excluding food and energy, producer prices increased 2.4% from a year earlier, matching the slowest gain since last May and missing projections for an acceleration, following the prior month's 2.4% reading, a Labor Department report showed Thursday. The overall producer-price index was up 0.2% from March, also below estimates, after a 0.6% increase.
Key Insights
The figures, which measure wholesale and other selling costs at businesses, offer an indication that inflation pressures in the pipeline are slightly weaker in the economy than thought. 
The report showed monthly declines in categories, including thermoplastic resins and materials, traveler accommodation services and margins for some retail sectors. Most of the April advance in the services index was due to portfolio management prices, which jumped 5.3% from the prior month, the Labor Department said. 
April consumer-price data to be released Friday are forecast to show pickups in core and overall inflation, which would go further to Fed Chairman Jerome Powell's stance that the recent dip in underlying price gains will be temporary. At the same time, inflation remains broadly subdued, and investors expect the central bank to cut interest rates in the coming year, while President Donald Trump and his administration have kept up pressure on the Fed for a reduction in borrowing costs to supercharge the economy. 
Producer prices excluding food, energy and trade services — a measure preferred by some economists because it strips out additional volatile components — rose 0.4% from the prior month, and were up 2.2% from a year earlier after climbing 2%.
Economists' Views
The details actually validate Powell's characterization of some inflation forces as transitory, according to Jim O'Sullivan, chief U.S. economist at High Frequency Economics. While the headline and core figures were "pretty tame," he said, some components that are incorporated in the Fed's preferred inflation gauge, tracking personal consumption, were relatively strong.
JPMorgan Chase & Co's Daniel Silver said in a note that the data signal the core personal consumption expenditures price index "likely will firm relative to its recent trend." He noted gains in portfolio management and domestic air transportation, categories Powell cited in his last press conference as transitory factors that had been weighing on inflation.
A separate Labor Department report Thursday showed filings for unemployment benefits fell by less than estimated last week, keeping claims slightly elevated compared with the recent average. That may continue to reflect the late timing of the Easter and Passover holidays this year and associated spring vacations for Americans. Producer prices for goods rose 0.3% after gaining 1% the previous month. 
Services prices increased 0.1% after a 0.3% gain. Energy prices jumped 1.8% from the prior month, boosting the overall gauge, while food costs fell 0.2%. While the consumer price index is considered a more important indicator of inflation, data on producer prices help provide insights into the direction of input costs, and analysts monitor this data to assess how the gains will filter through to consumers.