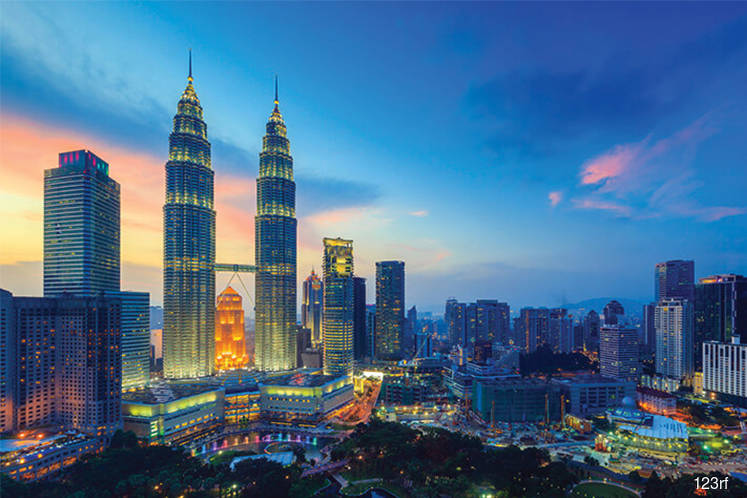 KUALA LUMPUR (July 19): As the market is expecting another rate cut by the US Federal Reserve (Fed), this could be a boon for emerging equity markets, including Malaysia.
"(In the event of a) US rate cut, where it doesn't lead to (economic) recession, which is what we expected, 100% is good for equities market, including emerging markets such as Malaysia," said Standard Chartered head of managed investments and products management Danny Chang during a briefing on the global market outlook for 2H19.
Chang noted that market consensus estimated that there is a 100% probability for at least one rate cut and a 93% probability of two rate cuts from the Fed by end-2019.
In June, the Fed signalled it was prepared to cut rates as soon as July if the US and China don't reach a détente in their escalating trade war and other risks continue to grow.
The Fed currently pegs the overnight funds rate in a range between 2.25% and 2.5% — above zero, but still well below normal levels that prevailed during past economic expansions.
The upcoming US Federal Open Market Committee (FOMC) meeting will be held on July 30-31, 2019.
In the event of a US rate cut, Chang said Northeast Asia equity markets, including China, South Korea and Hong Kong, are among those noted to benefit from foreign inflows, due to cheaper valuations and anticipation of higher corporate earnings growth.
The funds will also flow into Southeast Asia markets such as Malaysia, albeit at a much slower pace, Chang added.
However, Chang sees Malaysian equities continuing to underperform against its peers, due to expensive valuation and lower corporate earnings growth.
"The price-earnings (PE) ratio for FBM KLCI is trading about 16 to 17 times, (while) Asia peers are trading at low teen between 10 and 11 times.
"The consensus estimated that Malaysia's corporate earnings growth is below 10% (in 2019), lower compared to Asia peers, which are growing at a rate of 11% to 12%," said Chang.
On the ringgit front, Standard Chartered has projected the ringgit to trade against the US dollar at RM4.15 level by year-end.
As of writing, the ringgit was trading at RM4.1095 against the greenback.
One of the important factors to watch out for is the potential withdrawal of Malaysia's government bonds from the FTSE World Government Bond Index (WGBI), according to Chang.
The global index provider has placed Malaysian bonds on the watch list for six months due to concern about market liquidity, which simultaneously raises some concerns that an exclusion could trigger a rating downgrade.