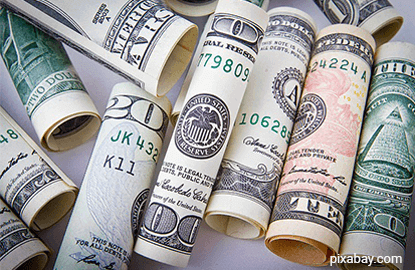 NEW YORK (Feb 28): The US dollar weakened slightly on Tuesday as investors awaited US President Donald Trump's speech to Congress for fresh indications of his economic plans and as portfolios were rebalanced for month-end.
Investors were wary that Trump may disappoint those who expect greater detail on how he will reform the tax code as he focuses on domestic issues.
Price moves were muted as investors rebalanced portfolios for the end of the month and were hesitant to take new positions before Trump's speech.
"Markets are a little bit cautious," said Mark McCormick, North American head of foreign exchange strategy at TD Securities in Toronto. "I think it's a mix of profit-taking ahead of Trump, and also you have month-end rebalancing flows. Those I think are the dominant drivers."
The US dollar rallied to a 14-year high soon after Trump won the US election in November, boosted by hopes he would introduce large fiscal stimulus and reflationary plans, but the greenback sagged in January and the first half of this month in the absence of specifics on tax reform.
The dollar index against a basket of six major currencies was last down 0.15% at 100.98. It is on track to end February with a gain of around 1.5%.
Safe-haven currencies including the Japanese yen were stronger, with the yen gaining 0.59% to 112.02.
"Forex looks to be trading a little bit risk off today," said Sam Lynton-Brown, a strategist with BNP Paribas in London.
The US dollar/yen has also been highly correlated with US bond yields, with lower Treasury yields on Tuesday helping the Japanese currency.
Investors also focused on when the Federal Reserve is likely to next raise interest rates as a plethora of Fed officials deliver speeches this week, culminating in an address by Fed Chair Janet Yellen on Friday.
Expectations that the US central bank may raise rates when it meets in March have risen in the past week on hawkish Fed statements and stronger economic data, though market pricing is still seen as being well below levels that would encourage the Fed to move.
Futures traders are pricing in only a 33% chance of a March rate increase, according to CME Group's FedWatch Tool.