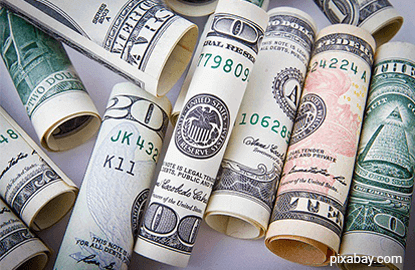 TOKYO (Jan 31): The US dollar slipped against the yen on Tuesday, as the Japanese currency benefited from its safe-haven status, with the appetite for risk curbed by US President Donald Trump's hardening defence over his immigration policies.
The US dollar was down 0.2% at 113.570 yen after dropping to as low as 113.240. It lost more than 1% overnight, when it was knocked off its perch above 115.000.
The latest blow against the US dollar was initiated after Trump ordered a temporary ban over the weekend on the entry of refugees and people from seven Muslim-majority countries.
On Monday, the president fired acting US Attorney General Sally Yates after she refused to defend Trump's new travel restrictions.
Selling of the US dollar appeared to have briefly gained momentum after Trump's move, said a dealer at a Japanese bank.
The Bank of Japan's well-anticipated decision to stand pat on monetary policy on Tuesday had little lasting impact, although the US dollar did briefly rise above 113.700 following the announcement before drifting lower again.
"US dollar/yen weakness started overnight, which is much more driven by US policy. The BOJ's no change decision resulted in a 'continue on' with the established direction," said Bart Wakabayashi, head of Hong Kong FX sales at State Street Global Markets.
While the BOJ on Tuesday maintained a pledge to guide short-term interest rates at minus 0.1% and the 10-year government bond yield to around zero percent, the financial markets have begun to speculate about when the central bank might allow long-term rates to drift higher.
The euro was flat at US$1.0696. The common currency had clawed back from an 11-day low of US$1.0620 on Monday, helped by data showing German consumer price inflation hit the highest in 3½ years and nearing the European Central Bank's price stability target of just under 2%.
The euro was poised to gain 1.7% against the US dollar this month.
The pound was up 0.2% at US$1.2516, but still within reach of a near one-week low of US$1.2466 plumbed overnight on nervousness ahead of Thursday's Bank of England policy meeting.
The Australian dollar added 0.15% to US$0.7564, on track for its third straight day of gains against its US counterpart.
The New Zealand dollar was virtually flat at US$0.7288, staying in proximity of an 11-week peak of US$0.7314 scaled last week.
The Aussie and kiwi were both on track to end the month roughly 5% against the volatile greenback.
The dollar index against a basket of major currencies was down 0.1% at 100.360. It was poised to lose 1.8% this month.
The index had soared to a 14-year high of 103.820 at the start of January when market expectations towards Trump still centred on potential stimulus plans under the new president.