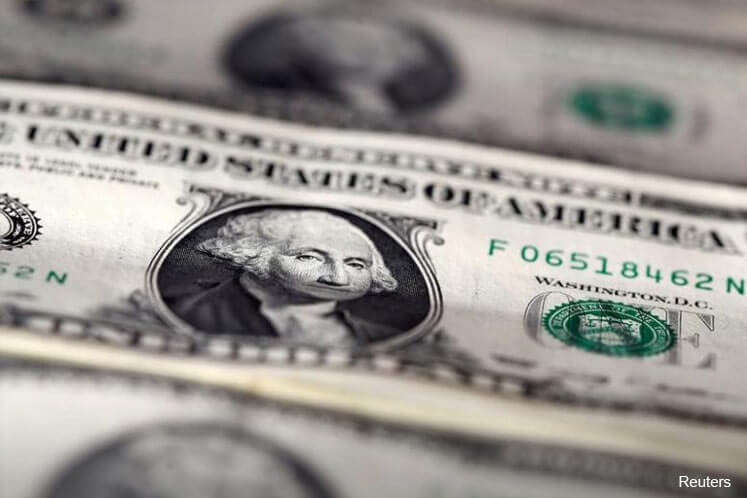 NEW YORK (March 27): The US dollar fell to its lowest since November against a basket of currencies on Monday as investors lost confidence in prospects for a US fiscal spending boost under President Donald Trump after his failure to pass a major healthcare reform bill.
Trump's inability to deliver on his campaign pledge to overhaul the nation's healthcare system marked a big setback for a Republican president whose own party controls Congress, and raised doubts over whether he will be able to see through tax reforms and a proposed spike in spending.
The US dollar was down 0.65% on the day against the basket of major currencies used to measure its broader strength. It fell as low as 98.858, the lowest since Nov. 11.
"The assumption was that if you can't get healthcare done that some of the other things on his agenda, mainly the tax reform, would be a harder sell," said John Doyle, director of markets at Tempus Inc in Washington.
The reduced expectations for Trump's reflationary tax and spending proposals also sent equities lower, with the US S&P 500 down 0.75%.
The dollar index had risen to a 14-year high near 104.00 in early January when expectations for inflation-boosting stimulus under the Trump presidency were at their peak, with investors betting big on the so-called "Trumpflation" trade.
Speculators increased bullish bets on the US dollar in the week up to last Tuesday for the third time on the trot, pushing net longs to their highest since Jan. 31, Commodity Futures Trading Commission (CFTC) data showed on Friday.
Against the yen, the US dollar fell more than 1% to 110.09, its weakest since Nov. 18. The US dollar hit its lowest against the Swiss franc, another traditional safe haven for capital, since Nov 9.
The euro reached US$1.0904, its highest since Nov 11. Sterling, the worst performer among the G10 group of major currencies against the US dollar this year, hit an 8-week high of US$1.2615.
"The British pound is still close to its weakest level in 30 years, so it has some upside especially since data out of the UK has been better," Doyle said. "The Japanese yen has had a great run because stocks around the globe are down. So if you start breaking it down into each individual currency there's a good reason, but overall it's just a dollar negative day."