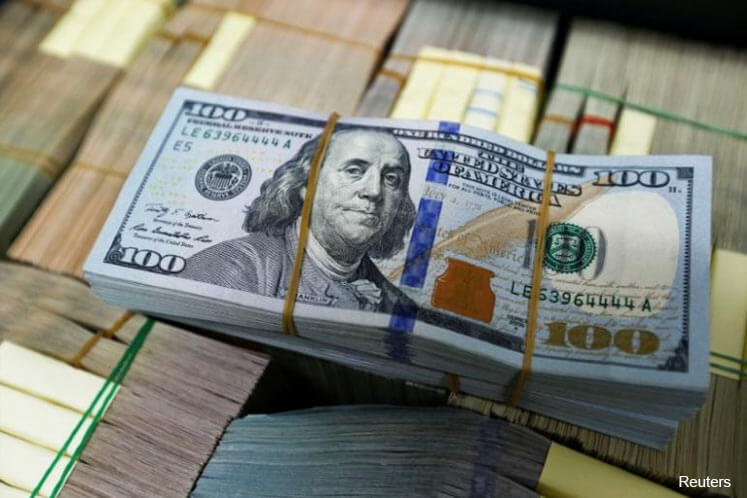 LONDON (March 27): The US dollar slid to a four-month low against a basket of currencies on Monday as concerns rose about the prospects of a US public spending boost under President Donald Trump after he failed to push through a healthcare reform bill.
His inability to deliver on a major election campaign pledge marked a big setback for a Republican president whose own party controls Congress, and raised doubts whether he will be able to see through tax reforms and a big spike in spending.
The US dollar fall 0.5% on the day against the basket of other major currencies used to measure its broader strength. At 99.038 the index was at its lowest since three days after Trump was elected in November.
"Markets are continuing to unwind the Trump premium," said BMO Capital Markets currency strategist Stephen Gallo in London.
"We probably are aiming for the (Nov 8) pre-election lows... That's probably a viable target."
The index had risen to a 14-year high near 104.00 early in January when expectations for significant stimulus under the Trump presidency were at their peak, with investors betting big on the so-called "Trumpflation" trade.
"While the failure to repeal Obamacare has limited fiscal implications, investors are viewing this setback as a broader loss of faith in the Trump administration's ability to deliver on other campaign pledges — namely tax and spending policies which have underpinned asset prices since the US elections," ING strategist Viraj Patel wrote in a note to clients.
Against the yen, the US dollar fell more than one percent to 110.15 — its weakest since Nov. 18 — and was last trading around 110.20 yen. Another traditional safe haven for capital, the Swiss franc, touched a 4½-month high.
The euro reached US$1.0874, its highest since Dec 8. Sterling, the worst performer among the G10 group of major currencies against the US dollar this year, hit a 7-week high of US$1.2580.
Some analysts did argue that investors could be taking the wrong cue from Trump's legislative defeat by linking it with his chances of successfully pursuing his economic agenda.
"There is widespread perception that failure to pass the healthcare bill somehow derails the rest of the Trump agenda," said Tom Porcelli, chief US economist at RBC Capital Markets.
"We think linking this particularly difficult legislative undertaking with the rest of the Trump is flawed. It actually presents a scenario where tax reform can potentially be accelerated."