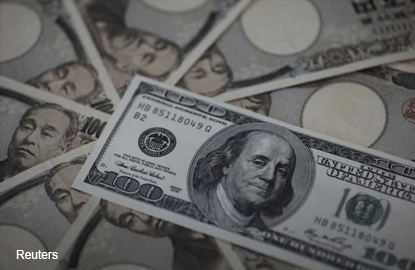 TOKYO (Feb 3): The recently beleaguered US dollar rose to its session high against the yen on Friday after the Bank of Japan offered to buy Japanese government bonds in a surprise operation aimed at bringing down JGB yields, as investors awaited US jobs data later in the session.
The US dollar was up 0.2% at 113.04 yen after rising as high as 113.24 earlier. It had slumped to 112.05 yen overnight, its lowest since late November, and was still on track to fall 1.8% for the week.
The BOJ offered to buy benchmark 10-year Japanese government bonds in a special operation on Friday, aimed at keeping the 10-year yield at its target of around zero%.
"The yen might continue to weaken against the US dollar after today's action," said Masashi Murata, senior currency strategist at Brown Brothers Harriman.
"Some participants may have concerns about the BOJ's previous actions, or lack of action, when JGB yields have risen, so it's a good signal," he said. "But my feeling is that BOJ also doesn't want to keep expanding their balance sheet."
The BOJ held policy steady on Tuesday at the conclusion of its two-day meeting, maintaining its pledge to guide short-term interest rates around minus 0.1% and the 10-year JGB yield to around zero.
The perceived safe-haven yen had risen to a session high of 112.505 yen against the US dollar in late morning Tokyo time, after regional stock markets dropped after China unexpectedly raised short-term interest rates.
US JOBS DATA IN FOCUS
The US dollar was also poised for weekly losses against a basket of currencies, as investors awaited US employment data for clues to the timing of the Federal Reserve's next interest rate hike.
Data released on Thursday showed the number of Americans filing for unemployment benefits fell more than expected last week. The nonfarm payrolls report is due later in the session and is expected to show employers added 175,000 jobs in January, according to the median of 102 economists polled by Reuters.
Other data on Thursday showed worker productivity slowing in the fourth quarter, which economists said suggested companies would need to keep hiring to increase output.
The dollar index, which gauges the greenback against six major currencies, edged up 0.1% to 99.870, on track to shed 0.7% for a week that saw it dip as low as 99.233, its lowest since late November.
The US dollar began climbing after Donald Trump's presidential election victory on Nov. 8 on expectations that his stimulus policies would stoke growth and inflation. But Trump's protectionist policies and immigration curbs have taken away some investors' appetite for risk, leading them to trim their long US dollar positions.
"The US dollar has been pulled down by fear, in markets, given all the headlines," particularly those about Iran, said Jennifer Vail, head of fixed-income research for US Bank Wealth Management in Portland, Oregon.
Trump is poised to impose new sanctions on multiple Iranian entities, seeking to ratchet up pressure on Tehran while crafting a broader strategy to counter what he sees as its destabilising behaviour, people familiar with the matter said on Thursday.
"That might actually put some substantial downward pressure on the markets, despite the good jobless claims number," she said. "The US dollar is being pulled down by some of that geopolitical risk."
The Fed's meeting on Wednesday disappointed some US dollar bulls. Although the central bank said job gains were solid and both inflation and economic confidence were rising, some inflation gauges were still weak. It gave investors no fresh reason to prepare for a rate hike anytime soon.
The euro was steady at US$1.0759, after rising as high as US$1.0829 overnight, its loftiest peak since Dec 8. It was up 0.6% for the week.