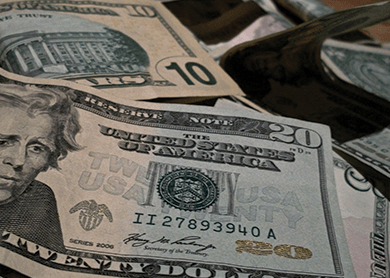 LONDON (Feb 2): The US dollar fell to its lowest since mid-November on Thursday after the Federal Reserve disappointed investors hoping for a clear sign of a March interest rate rise, while the Australian dollar rallied after data showing a record trade surplus.
Money markets had shown a 20% chance of a rise in US rates next month but that slipped to as little as 15% despite the Fed sending a broadly upbeat message on the economy.
Aggressive language from the United States on Iran and a refugee deal with Australia also put the focus back on the geopolitical risks from US President Donald Trump's administration rather than the expectations of higher inflation that dominated markets' initial thinking.
The US dollar has fallen steadily since the Fed raised rates in December. Worries over the broader shape of policy under the new president — and hints of his desire for a weaker US dollar — have turned back many of the large bets taken on the currency last year.
The US dollar index hit a 12-week low in early European trading, although traders stressed it was not obvious it would fall much further ahead of US jobs numbers on Friday.
"If anything had come along last night to reinstate the Fed element of the equation the US dollar would have rallied," said Neil Mellor, a strategist with Bank of New York Mellon in London.
"But there are overriding fears about what the Trump administration is or isn't prepared to do about all these antagonistic issues. Until we know, worries about his attitude to the US dollar are going to weigh on the market."
Against the yen, normally chief beneficiary of nerves about global security or political risk, the US dollar fell 0.6% to 112.62, moving closer to Tuesday's low of 112.08. The euro hit an 8-week high of US$1.0819.
"We're still seeing long-term guys buying the US dollar on dips, expecting it to eventually recover on interest rate differentials between Japan and the US," said Kaneo Ogino, director at foreign exchange research firm Global-info Co in Tokyo. "But sometimes, it's a short-term market."
The Aussie added to gains in Asia to stand 1% higher on the day, driven by a recovery in exports in the fourth quarter that sent its current account surplus soaring and headed off any thoughts of a dip into recession.
"The trade balance has turned around from a AUD 3.8 billion deficit in 3Q to a AUD 4.8 billion surplus in 4Q," RBC strategist Elsa Lignos said. "A technical recession in Australia in 4Q (is now) unlikely."