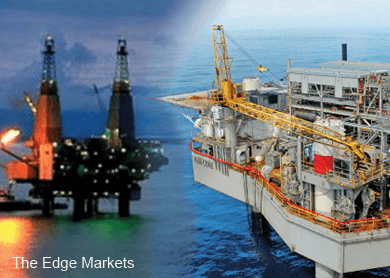 SINGAPORE (Apr 15): U.S. crude futures climbed towards $54 a barrel in early Asian trade on Wednesday, buoyed by a smaller than expected build in U.S. crude inventories, Middle East tensions and a weaker dollar.
FUNDAMENTALS
* U.S. crude for May delivery rose 15 cents to $53.44 as of 0003 GMT after settling $1.38 higher in the previous session to surge above its 100-day moving average of $52.96.
* Brent crude for May delivery climbed 31 cents to $58.74 after rising 50 cents in the previous session. The Brent contract expires on Wednesday.
* U.S. commercial crude stocks rose by 2.6 million barrels to 474.8 million in the week to April 10, below analysts' expectations for a 4.1 million barrel build, data from the American Petroleum Institute showed on Tuesday.
* U.S. crude stocks at the Cushing, Oklahoma, delivery hub rose by 1.3 million barrels, API said.
* U.S. crude oil production will peak at a higher-than-forecast 10.6 million barrels per day in 2020, the Department of Energy's Energy Information Administration said on Tuesday in its annual energy outlook.
* OPEC should cut its target daily oil production by at least 5 percent, or about 1.5 million barrels, Iranian Oil Minister Bijan Zanganeh was quoted as saying on Tuesday.
* Oil buyers are shunning discounts being offered for crude by Libya's official government amid uncertainty over who exactly owns the oil being marketed by the eastern government, oil officials and insiders said.
* Talks between Iran and six world powers to reach a final agreement on Tehran's nuclear programme will resume on April 21, two weeks after the two sides reached a preliminary deal, Iranian Foreign Minister Mohammad Javad Zarif said on Tuesday.
* The U.N. Security Council imposed an arms embargo targeting the Iran-allied Houthi rebels fighting an insurgency in Yemen on Tuesday, while the U.N. and U.S. imposed sanctions on other key rebel figures.