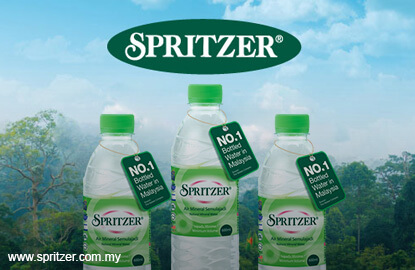 KUALA LUMPUR (March 14): Mineral water producer Spritzer Bhd announced that FMR LLC, part of United States-based Fidelity Investments, has emerged as a substantial shareholder after it acquired 38,100 shares in the open market.
This boosted FMR's holdings in Spritzer to 9.25 million shares, equivalent to a 5.07% stake.
FMR's share acquisition in Spritzer was part of a simple portfolio of investments, the company said in a filing with Bursa Malaysia this evening.
At today's closing price of RM2.23, FMR's stake in Spritzer is valued at RM20.63 million, while Spritzer is valued at a market capitalisation of RM406.38 million.
It is worth noting too that FMR is also a substantial shareholder in Ajinomoto (M) Bhd, a monosodium glutamate manufacturer famous for its food seasoning product.
FMR holds some 3.23 million shares in Ajinomoto, equivalent to a 5.31% stake.
Ajinomoto's closing price of RM15.04 today valued FMR's stake in the company at RM48.55 million.
Headquartered in Boston, Fidelity Investments is the fourth largest mutual fund in the world, with presence in eight other countries across North America, Europe, Asia and Australia.
As at June 30, 2016, Fidelity Investments' global asset under management stood at US$2.1 trillion.