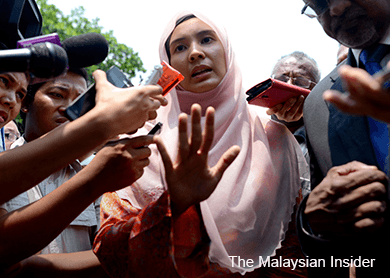 KUALA LUMPUR (Mar 17): The US State Department today expressed deep concern over the arrest of Lembah Pantai MP Nurul Izzah Anwar, and urged Putrajaya to apply the rule of law fairly in Malaysia.
In a brief statement, US State Department spokesperson Jen Psaki said the government's investigations under the Sedition Act raised concerns about the democracy practised here.
"We are deeply concerned with the detention of opposition member of parliament, Nurul Izzah.
"The Malaysian government's recent investigations and charges of sedition against critics raise serious concerns about freedom of expression, rule of law, and the independence of the judicial system in Malaysia.
"To further restrict freedom of expression will only lead to further erosion of important pillars of Malaysia's democratic system," she said.
Psaki said the US encouraged Malaysia to take steps to apply the rule of law fairly, transparently, and apolitically in order to promote confidence in the country's democracy, judiciary, and economy.
Nurul Izzah was arrested yesterday under the Sedition Act. Inspector-General of Police Tan Sri Khalid Abu Bakar late last night said she was being investigated under the act over the #KitaLawan rally and for making "contemptuous remarks" against the judiciary.
Other Pakatan Rakyat leaders and activists who have been detained over the rally are PAS Youth treasurer Mohd Fakhrul Razi, PKR secretary-general Rafizi Ramli, Jingga 13 head coordinator Mohd Fariz Musa, PKR Youth chief Nik Nazmi Nik Ahmad, Kelana Jaya PKR Youth leader Saifullah Zulkifli, DAP youth chief Teo Kok Seong, and activists Adam Adli Abdul Halim and Mandeep Singh.
The US State Department's comments today come on the heels of the White House's statement last week that it was disappointed over Nurul Izzah's father, Datuk Seri Anwar Ibrahim's guilty conviction for sodomy.
It said the worry was compounded by the Malaysian government's intention to expand the sedition law against critics, despite Prime Minister Datuk Seri Najib Razak's promise to repeal it.