Malaysia's Worst Flooding in Decades and Recent Raging Storms
In late 2021 and up to May 2022 Malaysians had received weather alerts from the Malaysian Meteorological Department (MetMalaysia) of storm and floods hitting the nation on a number of occasions.
On May 15, 2022 the sudden surge of water and soil from a stream as a result of heavy rainfall had swept away two hikers, part of a group of 29 hikers, who were hiking along a trail on the hill at Gunung Suku in Simpang Pulai in Perak. In the following days, the Search and Rescue Team (S&R Team) found two body parts, believed to be from the victims. Perak Forestry Department Director Datuk Mohamed Zain Yusop had remarked that the Department will temporarily stop issuing any permits to enter the forest reserve due to the dangerous situation arising from present heavy downpour and thunderstorms.
On May 11, 2022, heavy rain caused the nearby river to rise rapidly and triggered flash floods in several low-lying villages and recreational areas at Janda Baik, and inundated homes, and holiday resorts. The heavy downpour which caused a landslide along the old road between Jalan Bukit Tinggi and Genting Sempah had resulted in the road being closed to all vehicles for clearing works.
About two weeks earlier, on April 25, 2022, continuous heavy rain had resulted in several locations in the Klang Valley being hit by flash floods. Several routes were under water and a number of cars were submerged in the floods, leading to severe traffic jams.
For several days in March, heavy downpours had caused flooding in Greater Kuala Lumpur, Melaka, Negeri Sembilan and Selangor. Malaysians had taken to social media to share videos showing rising water levels in affected areas with large numbers of cars submerged in the floods and stuck for several hours, people stranded on car roofs as water rose quickly and a police car was swept away by the flood. As a result of the severity of the flood in the city, the Smart Tunnel was temporarily closed for flood operations.
On March 8, Environment and Water Minister Datuk Seri Tuan Ibrahim Tuan Man had explained that the heavy rainfall, amounting to half a month's worth of rain in just two hours, was the cause of the floods in the capital city.
It was reported that parts of Hulu Langat District had recorded more than 120 mm of rain in 24 hours to March 10, 2022 and that this heavy downpour had caused part of a hillside to crash into homes and vehicles in Ampang Jaya in Hulu Langat District. Some 15 homes were damaged or destroyed, along with around 10 vehicles. Five people were reported missing. Sadly the next day, the bodies of four victims had been found. One person escaped with minor injuries.
The same day on March 11, the media highlighted MetMalaysia Director-General Helmi Abdullah's announcement that Malaysians should brace for storms and floods till mid- May and had advised the public to get regular updates on Malaysia's weather conditions via the department's official website at www.met.gov.my, its myCuaca mobile app, or its official social media platforms.
A video which went viral on February 22 that horrified Malaysians showed two maintenance workers cleaning a tall tower building from a gondola hanging on as strong winds caused the suspended platform to spin violently and toss from side to side several times. Watching in horror we dreaded to think of the outcome of this scene.
Thankfully the gondola finally slammed against the building and the very fortunate workers managed to climb safely into the building. Several states in Malaysia were badly affected by this storm which had damaged homes and properties.
In late February 2022, floods had impacted states in the East Coast. News reports on Feb 26 stated that all eight districts in Terengganu were badly hit by floods, which affected 3,813 people who had to seek shelter at 81 relief centres.
And nearly three months before, from Dec 17-19, 2021, Malaysia was impacted by the worst floods in several decades, which caused a record number of deaths of 54 persons, two missing as well as damage to homes and properties.
During these periods, several areas which had not been affected by floods and thunderstorms for years, were now experiencing these natural disasters.
The climate crisis is now causing disasters that are more severe and frequent than before and in areas that were not affected previously, such as the case of the recent flooding in Kuala Lumpur.
Financial and Economic Impact
The climate disaster that had affected several states in Malaysia in late December 2021 and early January 2022 had resulted in overall losses of RM6.1 billion (US$1.46 billion).
In January 2022, the chief statistician of the Department of Statistics Dr Mohd Uzidin Mahidin reported that the losses are equivalent to 0.4 per cent of the country's nominal Gross Domestic Product (GDP).
At the global level, Thomson Reuters Foundation had reported that in 2021 disasters due to extreme weather and natural phenomenon such as earthquakes resulted in a global economic loss of US$270 billion and that according to a report by the Swiss Re Institute, floods alone accounted for 31% of those losses.
Views of stakeholders- A Snapshot
Thomson Reuters Foundation had highlighted on May 2, 2022 that widespread flooding across Malaysia starting late last year had shocked urban residents, with green groups calling for a new approach as climate change impacts become more severe.
Pre-occupation, Focus and Attention on Covid-19 Pandemic
The Covid-19 virus which has infected 4,458,889 and killed 35,583 Malaysians , as of May 8, 2022 continues to ravage the nation causing health, social, business, economic and political chaos.
World leaders, governments and businesses are presently focusing a lot of attention and investment to mitigate the Covid-19 pandemic which is transitioning into the endemic stage for many countries, including Malaysia.
As a measure to guide the nation to a path of recovery from this pandemic, the Malaysian Government had on June 15, 2021 launched a National Recovery Plan (NRP) - a four-phase exit strategy from the Covid-19 crisis based on three indicators; Covid-19 transmissions among the community based on the number of daily Covid-19 infections, Capability of the public healthcare system based on the bed utilisation rate in intensive care unit (ICU) wards and how much of the population is protected against Covid-19, based on the percentage that has received two doses of vaccines.
In this roadmap, the government planned to move on to phase four, or the final phase, when average daily Covid-19 cases fall below 500, the healthcare system is at a safe level, with ICU bed usage at a sufficient level and when 60% of the population has received two doses of Covid-19 vaccines.
More Serious Crisis Looming, and the need to accord the same priority and urgency to defeating Covid 19 and addressing climate change
As nations strive to mitigate the Covid 19 pandemic and its endemic phase, professionals and experts are drawing the attention of Governments to more serious challenges that are looming.
Lama El-Hatow, an environmental and social consultant at the International Finance Corporation (IFC), an international financial institution and member of the World Bank Group highlighted that after Covid 19 comes to an end, other crises that are anticipated to follow include an economic recession, the climate crisis and the collapse of biodiversity ( see Fig 1) .
The experts are urging Governments to accord priority especially to mitigating these crisis; with the call for attention that the climate crisis and Covid 19 cannot be addressed separately , with the view that if Covid 19 and climate change are solved separately, then when the virus ends, then the repercussions of the climate crisis will be harsher than before.
Antonio Gutteres, Secretary General United Nations stressed that both Covid 19 and Climate change are very serious problems and both must be defeated. And that it is important that all the attention given to fight covid 19 does not distract us from the need to defeat the climate change.
---
Sheriffah Noor Khamseah Al-Idid binti Dato Syed Ahmad Idid is an innovation and nuclear advocate. She was the Special Officer to the Science Adviser to Malaysia's fourth Prime Minister.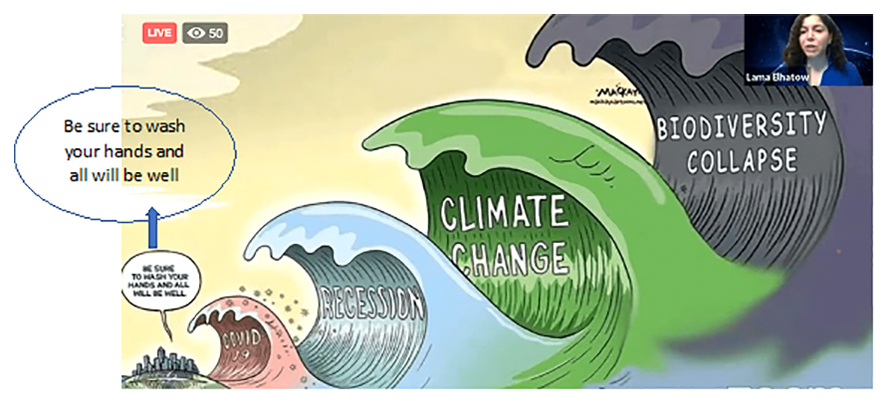 Fig 1: An illustration of present and future crises, represented by tsunami waves of different sizes, each bigger than the one before it, with Covid 19 pandemic the smallest wave, economic recession the larger wave followed by climate change a bigger wave and finally the collapse of biodiversity the biggest wave
source: Climate Change and COVID-19: There Is More Than One Curve to Flatten, Cairo Review of Global Affairs.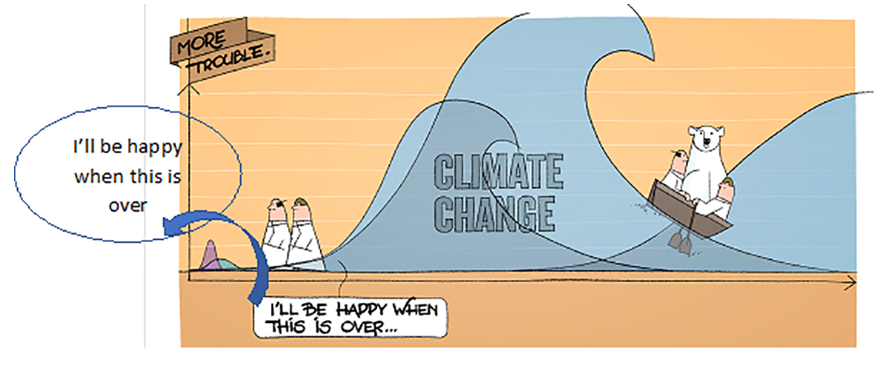 Fig 2: An illustration of the present focus and hope on recovery from the Covid 19 pandemic whilst climate change is already creating challenges and disruptions to society and life
source: What has COVID-19 taught us about flattening the climate curve?, World Economic Forum (WEF), Andrew Chakhoyan