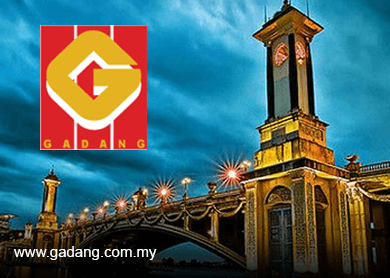 This article first appeared in
The Edge Malaysia Weekly
, on November 7 - 13, 2016.
IT only takes one bad quarter to spook investors. After posting a 20% drop in first-quarter net profit, Gadang Holdings Bhd saw its share price fall almost 13% from a record high of RM3.38 two days earlier.
Bucking the weak market trend, Gadang's stock price has climbed 37% so far this year.
The construction group recorded a smaller net profit of RM16.7 million in the three months ended Aug 31, 2016 (1QFY2017), from RM20.86 million a year ago on the back of lower revenue, which declined 30% to RM104.6 million in 1QFY2017 from RM149.38 million in 1QFY2016.
Is Gadang's earnings growth unsustainable or has the market overreacted?
The group's mainstay has been its construction business, which contributed 71.2% of revenue and 57.6% of net profit. But construction work tends to be lumpy in nature, especially the massive infrastructure that Gadang specialises in.
Unfortunately, it has not been able to secure enough big jobs in the last few quarters. At the beginning of the year, Gadang was bidding for over RM10 billion worth of projects. However, its tender book has since fallen to RM5.2 billion after it lost out on several sizeable infrastructure packages for the proposed Sungai Besi-Ulu Klang Elevated Expressway (SUKE) and the Damansara-Shah Alam Highway (DASH) projects.
This has resulted in the group's order book falling to RM603.7 million as at Aug 31, 2016, down from RM805 million a year earlier.
"Chinese contractors have partnered with local players to bid for some of these jobs and their pricing has been very aggressive," explains Gadang Engineering (M) Sdn Bhd managing director Khew Check Kiet.
But losing out on these low-margin projects does not rule Gadang out of the game. It is confident of bagging a package from the Mass Rapid Transit (MRT) Sungai Buloh-Serdang-Putrajaya Line (SSP Line).
"Each package is worth at least RM500 million. We're confident that we can secure at least one package given our track record in the first MRT project," Khew tells The Edge.
In total, Gadang is bidding for four MRT packages. The tenders will be concluded sequentially over the next six months, making it the key news flow to look out for. That's because a single package will easily boost Gadang's order book to over RM1 billion. It is worth noting that in the first MRT project, construction of the project  was broken down into many work packages so that most construction players got a slice of the action.
Gadang is also expected to get a slice of the Light Rail Transit Line 3 (LRT3) project. Tenders have not yet opened, but the RM9 billion project will be similarly broken down into numerous work packages to allow more contractors to participate.
However, the 37km-long rail link is substantially shorter than the 52.2km-long MRT SSP Line.
Industry sources say the viaduct packages for LRT3 is probably going to be broken into seven packages of about 5km each, with an estimated value of around RM300 million.
Will these infrastructure jobs be enough to keep Gadang on its current growth trajectory?
Recall that the bulk of the group's construction order book came from Petroliam Nasional Bhd's Refinery and Petrochemical Integrated Development (RAPID) project in Pengerang, Johor.
But going forward, there are isn't much Rapid work left for Gadang, notes Khew.
Over the past few years, Gadang has secured RM1.17 billion worth of RAPID-related work, making up more than half of the group's RM2.22 billion contracts. In fact, of the RM530 million or 87.8% of Gadang's existing order book are RAPID-related.
That said, RAPID has been rewarding for the Gadang. It posted a record net profit of RM94.19 million for the financial year ended May 31, 2016 (FY2016), up 58% from the previous year. It marked the group's fifth consecutive year of earnings growth.
Against this backdrop, Gadang in September also declared a record high dividend payout of 7 sen per share, or a 17.2% payout of earnings. At last Friday's close of RM2.89, Gadang is valued at a dividend yield of 2.4%.
Going forward, Gadang's diversification efforts should not be overlooked. As at Aug 31, 2016, the group's property development booked unbilled sales of RM221 million, up from RM189 million last year.
Recall that Gadang is building 790 units under 1Malaysia People's Housing (PR1MA) in Cyberjaya, Selangor. Some 325 units have been launched with an 86% take-up rate, and another 469 units will be launched by year-end.
Coupled with the 737 landed properties to be launched over the next six months, Gadang is looking at possible sales of over RM500 million. 
Gadang has also become a development partner for Kwasa Land Sdn Bhd's township of Kwasa Damansara. This is for a 24.08-acre piece of land that will boast a gross develop ment value of RM700 million. The development is expected to begin contributing to the group's earnings in 2018.
Coincidentally, the group's plantation and utilities segments are also expected to move into top gear in 2018. Gadang's palm oil trees will mature to an average age of seven years — the peak production age — in 2018. But the measly 5,181 acres of plantation land will only make a negligible contribution to the bottom-line.
More promising is the completion of Gadang's sole power concession, a 9mw mini-hydro power plant in Indonesia. PT Ikhwan Mega Power is expected to begin contributing to earnings in 2018 as well.
That said, all eyes will be on Gadang's ability to replenish its order book.
The construction segment booked in RM480.6 million in revenue and RM71.5 million in profit before tax (PBT) in FY2016. In contrast, construction in 1QFY2017 only managed to bring in RM42.1 million in revenue and RM8.4 million in PBT. That is only 8.8% and 11.8% of FY2016's revenue and PBT respectively.
Thus, it will be a challenging FY2017 for Gadang to grow for a sixth consecutive year and maintain its status as a darling construction stock.