This article first appeared in The Edge Malaysia Weekly, on September 17, 2018 - September 23, 2018.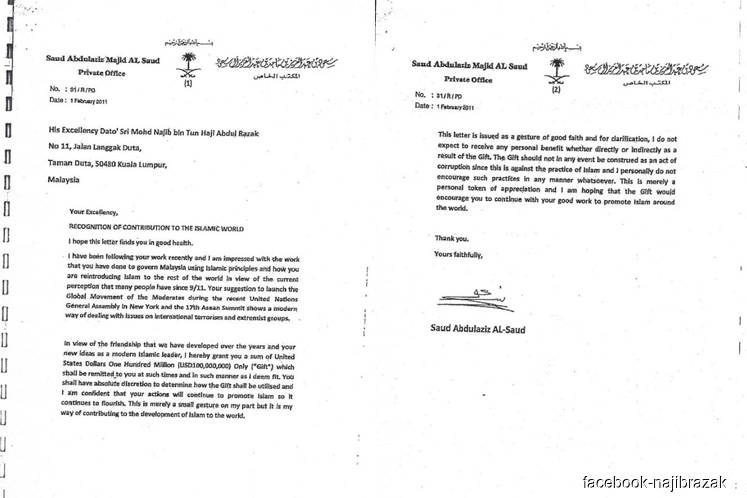 DATUK Seri Najib Razak has been busy on Facebook spinning his explanation of why US$972 million ended up in his AmBank account between 2011 and 2013.
His narrative is a simple one — that the funds were cash gifts from the House of Saud to make sure Umno and Barisan Nasional remained in power as they were the beacons of moderate Islamic leadership in Southeast Asia.
That he gladly accepted the money being deposited into his personal bank account rather than that of the party raises the question of whether accepting foreign money for political use is an act of treason.
Furthermore, while he claims the money was all from the Saudi royal family, investigators have cast doubts on his explanation because of evidence that shows it originated from 1MDB .
What is interesting is how "gifts" is a frequently used reason for the transfer of huge sums of money in the whole 1MDB saga.
For example, Riza Aziz, the stepson of Najib, claimed he received US$94 million as a gift from Aabar-BVI, the so-called fake Aabar that the US Department of Justice said had obtained around US$1.1 billion that originated from 1MDB.
Jho Low and his father Larry Low Hock Peng also cited "gifts" as a reason when explaining to their banks the transfers of hundreds of millions of dollars to each other.
And then there are the fake letters Jho Low is said to be deft at, starting from when he was just a student at boarding school in Harrow, England.
According to the just released book on 1MDB, The Billion Dollar Whale, Jho Low procured the letterhead of the Brunei Embassy from his friend and forged a letter to Chinawhite, a famous nightclub in London.
"In the letter, supposedly from staff at the embassy, Low asked for a table to be reserved at Chinawhite for members of Brunei's royal family. The gambit worked, and Low and his underage friends went partying alongside Premier League soccer players and models," the authors, Tom Wright and Bradley Hope, write.
Did Jho Low pull the same stunt with letters, purportedly from a Saudi prince, to hoodwink Bank Negara Malaysia and AmBank into thinking that the US$972 million paid to Najib was a donation when the money actually originated from 1MDB.
And while one can understand a nightclub being naive, why were Bank Negara and AmBank's top executives so gullible, especially when the sum involved was a massive US$972 million?
Save by subscribing to us for your print and/or digital copy.
P/S: The Edge is also available on Apple's AppStore and Androids' Google Play.