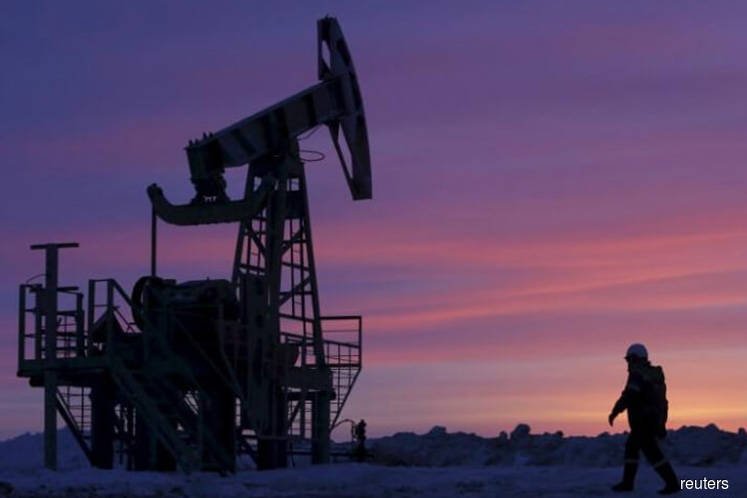 KUALA LUMPUR (Dec 27): UOB Group said today its crude oil price forecast at US$55 (RM229.41) to US$65 a barrel translates into a Malaysian government revenue loss at around RM2 billion to RM5 billion.
In a note today, UOB senior economist Julia Goh said the decline sensitivity in the country's oil-related revenue is RM300 million for every US$1 drop in crude oil prices. Goh said the calculation excludes Petroliam Nasional Bhd's (Petronas) dividend to the government.
"If we take the government and Petronas' medium term view of US$50/bbl-60/bbl for 2019-2021, this translates into a revenue loss of around RM3.6 billion-RM6.6 billion or 0.2%-0.4% of GDP (gross domestic product).
"Worth noting is that only 33% of the total oil revenues of RM81 billion in 2019 is at risk given that the Petronas dividend of RM30 billion (special one-off) and RM24 billion (annual dividend) is locked in as it is based on the preceding year's oil price level (YTD (year-to-date) 2018 as of Dec 26: US$71.92/bbl vs. official forecast for 2018: US$71/bbl). The variable components of the oil revenue are petroleum income tax and petroleum royalties which are based on the current year's oil price and oil production," she said.
Based on UOB's channel checks, Goh said there is upside to the government's revenue from new tax measures and additional revenue from asset sales.
She said the additional revenue could be between RM4 billion and RM8 billion while savings from introducing a targeted subsidy scheme could be around RM6 billion.
"Hence, we think there is room to manoeuvre and prevent a slippage in the fiscal deficit targets," she said.
UOB's report quoted Finance Minister Lim Guan Eng as saying that the government will only recalibrate Budget 2019 if the average crude oil price dips below US$50 a barrel. The budget targets a fiscal deficit of RM52 billion or 3.4% of GDP in 2019 based on an average crude oil price of US$72 a barrel, according to Lim.