This article first appeared in The Edge Financial Daily, on May 13, 2019.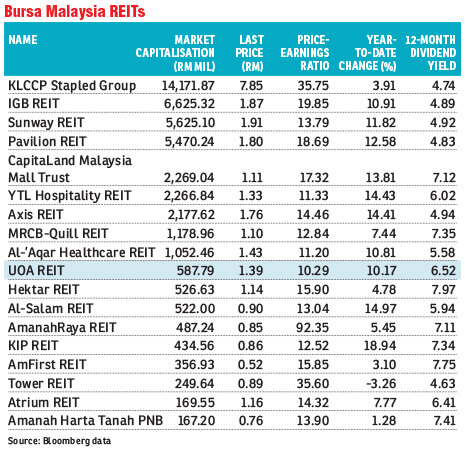 KUALA LUMPUR: Almost a year after the RM120 million disposal of Wisma UOA Pantai, UOA Real Estate Investment Trust (REIT) is on the lookout for fresh assets to add to its portfolio.
"We are actively looking for new acquisitions. A location we are very keen to have a presence in would be Bangsar South," UOA Asset Management Sdn Bhd chief executive officer Kong Sze Choon told The Edge Financial Daily in an exclusive interview.
The group, which currently manages commercial properties in Bangsar, Bukit Damansara and Kuala Lumpur City Centre, has yet to include its home base of commercial buildings in Bangsar South as part of its assets under management.
This could be because up to the middle of last year, its gearing stood at 34%. The sale of Wisma UOA Pantai to CIMB Bank Bhd in July 2018 reduced this figure to 26.4%, putting the group in a better position to grow.
"This year, since we have pretty much reorganised our portfolio, we are definitely in a much more comfortable and stable position [to expand our assets]," said Kong.
He declined to comment on how much the group would allocate for a potential acquisition, but indicated that it would be most comfortable with a gearing ratio of below 40%.
While UOA REIT would give priority to commercial properties developed by its parent company UOA Development Bhd, it is also considering assets built by other developers.
"There are quite a few boxes for us to tick before we acquire. For example, the building has to be yield-accretive, it has to be at least 70% occupied, [and] the location has to be good [and it has to have] reputable tenants," Kong said.
Like the five other assets it manages, UOA REIT is focused on acquiring centrally located properties that are also well connected, including easy access to public transportation such as the light rail transit and mass rapid transit systems.
Kong is confident that the locations of its properties, along with continuous asset enhancement initiatives, will help keep the group's occupancy rate stable at above 90% overall.
In fact, the group recorded an increase in overall occupancy rates in financial year 2018 (FY18) despite stiff competition from new office supply in Kuala Lumpur.
"Most properties with the exception of UOA II saw improvements in FY18," UOA REIT said in its 2018 annual report. Most notably, Wisma UOA Damansara II and UOA Damansara recorded increases in occupancy of 10.4% and 6.9% respectively.
"One reason why we've managed to maintain our occupancy is because we are in a better position to adjust our rental rates. In terms of costs for newer offices, their costs are definitely much higher than ours. The room for them to adjust their rental rates is a bit more limited. But for us, because the buildings have been there for so many years, the cost is much lower. So we do have that price flexibility," Kong said.
UOA REIT's gross rental income declined by 4.57% to RM78.2 million in FY18 versus RM82.04 million a year earlier. However, distribution per unit rose to 9.13 sen in FY18 from 8.55 sen. Net asset value also rose to RM1.72 per unit from RM1.67 year-on-year.
The decline in revenue as well as the decrease in expenses were mainly due to the sale of Wisma UOA Pantai, where the occupancy rate was only 19% at the time of disposal.
Kong said that UOA REIT also made savings of around 40% on its utility bills after it upgraded its centralised chiller in Wisma UOA Damansara II. "Rather than growing for the sake of growing, our strategy is about ensuring that our assets are performing at an optimal level before we start to source (for new properties)."
UOA Development currently controls 76.55% of the REIT via a number of holding companies including Damai Positif Sdn Bhd, Desa Bukit Pantai Sdn Bhd, Rich Accomplisment Sdn Bhd and Wisma UOA Sdn Bhd.
Compared with other REITs, UOA REIT's price-earnings ratio of 10.28 times ranks it among the lowest valued on the exchange. (see table)
It closed up one sen to RM1.40 last Friday for a market capitalisation of RM592 million.
Kong noted that interest in the REIT has grown since the fourth quarter of 2018 as investors turn to dividend-yielding REITs — traditionally considered a safe haven for investors — amid broader market volatility. On average Bursa Malaysia-listed REIT delivered a dividend yield of 6.19% in 2018.
Specifically, UOA REIT returned a yield of 6.97% in FY18, up 1.69 percentage points from 5.28% in the previous financial year.
Year to date, the stock has appreciated 6.92% against Bursa Malaysia REIT Index's 11.06%. The index comprises 18 members.