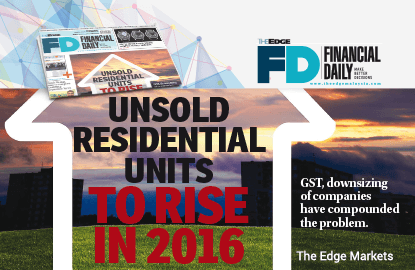 This article first appeared in The Edge Financial Daily, on March 14, 2016.
KUALA LUMPUR: Property developers are expected to see more unsold residential units in 2016, as launches over the past two years are expected to come on stream, amid a slowdown in demand.
The local property market has seen some dampening since the introduction of cooling measures by the government in 2014 to curb speculative activity, while the introduction of the goods and services tax (GST) in April 2015 had significantly affected consumer sentiment.
ExaStrata Solutions chief real estate consultant Adzman Shah Mohd Ariffin said the number of unsold units will continue to rise this year, as buying activity is expected to remain slow.
"The number of unsold units will continue to rise this year due to the launch of new residential projects in the last two years, on the back of lack of buyers in the market," he told The Edge Financial Daily.
"The impact of the additional burden of the GST, the recent downsizing of companies amid the challenging environment and rising living costs have compounded the problem," he said.
According to the National Property Information Centre's preliminary market report for 2015, the local market saw 86,997 and 70,273 residential units launched in 2014 and 2015 respectively.
Units sold over the two years totalled 39,491 and 29,089 for 2014 and 2015 respectively.
Nevertheless, the latest survey by the Real Estate and Housing Developers Association (Rehda) revealed that the number of respondents that reported unsold units improved slightly to 62% as at the second half of 2015 (2H15), compared with 78% in 1H15.
On a year-on-year basis, the number of unsold units fell two percentage points from 64% in 2H14.
The unsold units were mainly located in Selangor, Johor and Pahang. The prices of unsold units in Selangor and Johor were mainly in the range of RM500,001 to RM1 million, while that in Pahang were between RM250,001 and RM500,000.
The Rehda survey also showed that 62% of the 159 respondents across Peninsular Malaysia (comprising Rehda members) reported that units were unsold mainly due to lack of end financing and loan rejections.
Adzman said the unsold units, which tend to be priced higher by developers, could drive buyers to the secondary market where prices are more appealing, especially those in more established residential locations.
"Property developers will need to carry out more marketing and promotion of the new properties, make value-added offers and provide assistance to buyers by offering easier instalment payment schemes for the down payment and also assist them in obtaining bank loans," he said.
He added that developers can also offer value-added packages which could include absorption of maintenance charges for a certain significant period of time for high-rise units, as well as furniture, fixtures and fittings to attract buyers.
Overall, the property sector is expected to remain challenging in 2016, as catalysts for the segment remain elusive in the near term.
Kenanga Investment Bank Bhd said property developers under its coverage targeted an average 9% decline in FY16 sales amid tighter lending requirements.
"Given the current environment and lack of near-term catalysts, there are risks of developers revising down their sales targets by the third quarter of 2016. Thus, we will be monitoring this closely. For now, we are adopting a 'wait-and-see' stance and maintain 'neutral' [on the sector]," said the research house.
It added that rerating catalysts for the sector include monetary policy-related measures or a sharp improvement in the economy.
Kenanga has "outperform" calls on Eco World Development Group Bhd with a target price (TP) of RM1.90, Hua Yang Bhd (TP: RM2.20) and UOA Development Bhd (TP: RM2.22).