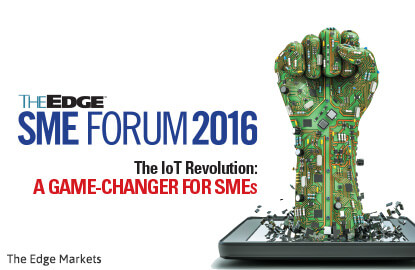 This article first appeared in
Unlisted & Unlimited, The Edge Malaysia Weekly
, on September 12 - 18, 2016.
The next big thing
The Internet of Things (IoT) is going to change the way companies do business. Although this digital disruption seems futuristic, no small and medium enterprise can afford to ignore it. According to the National IoT Strategic Roadmap that was launched by Mimos Bhd and the Ministry of Science, Technology and Innovation last year, IoT-related businesses are expected to contribute about RM9.5 billion to the gross national income by 2020. This is expected to increase to RM42.5 billion soon after.
Although the technology segment has long been dominated by giants such as IBM and Microsoft Corp, the advent of disruptive technologies has changed the landscape, says Norhizam Kadir, vice-president of infotech at Malaysia Digital Economy Corp Sdn Bhd (MDEC), who spoke at The Edge SME Forum 2016 in Kuala Lumpur recently.
"These large corporations [know] that if they do not ride the wave of the sharing and connected economy, they may lose the chance to be sustainable and maintain their competitive edge," he adds.
IoT technology is rapidly transforming the world. This is where items are embedded with sensors that allow them to sense, store and communicate information about themselves and their surroundings. The information is then stored in the cloud for it to be analysed and acted upon later.
There are five layers to this opportunity and companies can choose to come into any of these. The first layer are the "things" themselves — hardware, power and protocols. Second is communications and networking. The third has to do with computing and storage and the fourth are the apps and services that can be developed over the infrastructure. The final layer is analytics.
As IoT has become a buzzword, many SMEs are looking to get into the game. But Norhizam cautions them not to rush in without careful planning. He points out that it is crucial for them to carefully identify the problems they want to solve first.
As IoT leverages the World Wide Web, big data and connectivity, it can increase the value proposition of SMEs and bring them to the next level, says Norhizam. He adds that they should start thinking about the best way for them to integrate IoT into their businesses.
"The sharing economy is here to stay and it is disrupting every part of our lives, whether we realise it or not. Therefore, industry players — big or small — need to get on board to avoid losing out," says Norhizam. 
However, whether IoT will add to the value propositions of small businesses is another story, according to Dr Khoh Soo Beng, research and programme director at Collaborative Research in Engineering, Science and Technology (Crest). That is because the solutions they are proposing are already out there.
But he says local SMEs should not be disheartened as there are plenty of opportunities, as every organisation needs to collaborate and engage strategic partners to survive this revolution. "According to a Gartner report in 2014, 50% of the IoT solutions will originate from start-ups that are less than three years old by 2017. This is where the SMEs fit in."
Dr Yeong Che Fai, managing director of DF Automation and Robotics Sdn Bhd, says IoT players should look at opportunities in the property and insurance industries. "There are already some companies looking into this area. Now is the right time. Big companies such as Intel and Microsoft are willing to provide assistance to new IoT players. So are Crest and MDEC."
Malaysia's position as a global player in technology was also brought to the fore. Cyberview Sdn Bhd managing director Faris Yahaya says Cyberjaya is one of the world's technology hot spots, with a large number of early technology adopters.
Early technology adopters, defined as the first to purchase new products, make up 20% of the population of Cyberjaya, overtaking more prominent cities such as New York and Kuala Lumpur, he adds. 
This finding is part of Cyberview's efforts to position the city as a leading global technology hub. The company is entrusted with the mandate to spearhead the development of Cyberjaya.
"We have spent a couple of months identifying where Cyberjaya stands in an index. We are moving towards being included in the list of innovation cities," says Faris, adding that Cyberview is working with a Melbourne-based research firm and that the study is being finalised. 
"In the study, the firm noted that in terms of innovativeness, 20% of Cyberjaya's 120,000 transient population are early tech adopters while New York stands at 15% and Kuala Lumpur at 11%," he says. 
This makes a good business proposition for Cyberjaya as well as local start-ups and SMEs as companies can have their products and services tested and validated in the city, says Faris. "Cyberjaya has the right target population, which means it is the right place for technology start-ups and SMEs to come in and use the facilities, products and services."