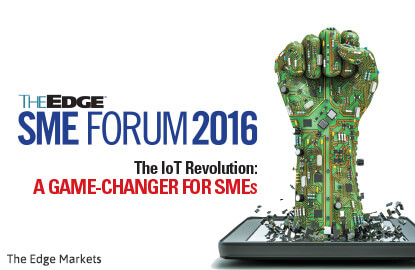 This article first appeared in
Unlisted & Unlimited, The Edge Malaysia Weekly
, on September 12 - 18, 2016.
SMALL and medium enterprises (SMEs) need to be absolutely clear about their value proposition if they intend to hop on the Internet of Things (IoT) bandwagon because upfront costs are high and their ideas may have already been developed by a larger company with deeper pockets.
Dr Khoh Soo Beng, research and programme director at Collaborative Research in Engineering, Science and Technology (Crest), says the big boys of the IT industry such as IBM, Cisco and Intel are already busy developing IoT solutions while most Malaysian SMEs are still engaged in mass manufacturing that may not require IoT technology.
"The upfront investment will not be cheap. The value proposition may not be worth the investment for some of our SMEs," he adds.
However, those who are interested in what IoT has to offer should not be disheartened, says Khoh. They can still play a part in the industry as there are many areas they can get into, such as products, communications and networking, computing and storage, apps and services, and analytics. 
No one company can go it alone. They would need to collaborate with strategic partners to move forward in this game.
Start-ups also have a big part to play here. "According to research company Gartner, by 2017, 50% of the IoT solutions will originate in start-ups that are less than three years old. I think this is where the local SMEs will fit in," says Khoh.
Another Gartner study, released in January, estimates that more than half of the new business processes and systems will have incorporated some element of IoT by 2020. By then, its impact on consumers' lives and corporate business models will have increased while the cost of implementing IoT will have dropped. 
 Khoh says SMEs need to think in terms of solutions rather than just the technology. IoT is merely an enabler and disruptor. SMEs should pinpoint a problem they want to address and come up with a solution. They should also check to see if what they want to develop is already out there in the market, he adds.
Crest, which provides funding for R&D, will not fund any solution that is already available in the market. As R&D costs are high, it is best not to waste money. 
"R&D expenditure is very high for SMEs, most of which are still living hand-to-mouth. And this is a sunk cost, with the company having no idea if it can make back that investment. This makes it difficult for SMEs to be innovative," says Khoh.
This is where Crest comes in. It links companies with researchers at selected public and private universities, which helps defray the expensive R&D costs. The university, in turn, gets to develop something that is potentially commercially viable.
"We have professors in the universities who are very good in R&D. SMEs should collaborate with these professors and form an ecosystem, where they [the universities] come up with innovations and the SMEs commercialise the products. That is how these businesses can tap the IoT market," says Khoh.
He adds that IoT has changed how data is collected, stored and used. Huge amounts of data need to be generated automatically instead of manually. 
"From an engineering perspective, big data is only meaningful and powerful when you can make sense of it, make decisions based on it and take action. Industry players should figure out how to use the generated data in the most meaningful way," he says. 
Crest is an industry-led organisation that helps to catalyse the growth of Malaysia's electrical and electronics sector by providing support through R&D projects, funding, expertise and leadership for the industry's talents.