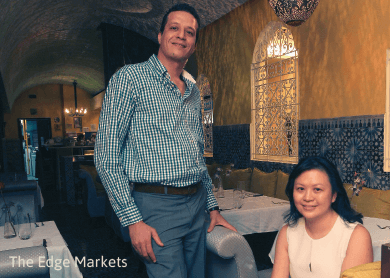 PUBLIC bathhouses were very popular in ancient Rome and Arabia. So, one shouldn't be surprised that such establishments still exist.
Hammams (bathhouses in Arabic) were traditionally used by Muslims who wanted to perform their ablutions. But nowadays, customers pay top dollar to enjoy a pampering session at these bathhouses.
The business model used by the owners of these bathhouses had to change over the years in line with market demand. Today, hammams are viewed as a luxury service for the affluent.
Su En Kam and Adam Demnati, owners of Hammam Spas, have turned the traditional bathhouse into an ornate sanctuary, offering both traditional gommage (bath and scrub) and massage treatments at their spas in Bangsar and Solaris Dutamas.
Hammams in Morocco, where Demnati hails from, focus largely on gommage. However, the couple felt that marrying the traditional hammam concept with modern treatments would give their customers the best of both worlds.
Providing customers with an authentic experience is very important to Kam and Demnati. As a result, their spas are decorated with Moroccan tiles and fittings. Even the steam bath is imported from Morocco.
They also engage Moroccan women who specialise in giving hammam treatments and use oils and herbs from Morocco. The recipes for some of these oils are from Demnati's grandmother herself.
"There are so many beauty recipes concocted by the old ladies in hammams. We have taken the best of the ancient recipes and put them into a modern context," says Demnati.
The facial masque used at Hammam Spas is a special recipe of Demnati's grandmother, made from plants grown on her farm. More than 20 plants are used in this concoction alone.
Kam and Demnati consult a Moroccan apothecarist to get the best results for their recipes. "Coming up with the right recipe is like composing a symphony," says Demnati.
One of the base ingredients is argan oil, which is rich in vitamin E. "The argan tree only grows in Morocco. We accept only the highest grade of ingredients to ensure the effect of our products on our customers," he says.
"We are always coming up with new blends, depending on the seasonal plants in Morocco," says Kam. "We continuously improve our products and add details to give our customers something that other spas in Malaysia don't offer."
Know what the market wants and expand accordingly Kam and Demnati have opened a Moroccan bistro next to their spa in Solaris Dutamas to give customers a complete lifestyle experience.
"We were already hosting many hen nights and larger groups in the spa. But if we wanted to maintain that as well as our regular customers, we had to expand and provide an event space as well," Kam says.
"It would not have made sense to cater food and bring it into the spa, especially with other customers getting their treatments done."
The bistro, which was launched late last year, was seen as a natural progression from their spa business. It was also a dream of Demnati to own a food and beverage outlet.
"We were getting requests from associations to host product launches and events. It was only practical to give them both food and the space to hold a full-fledged event," Kam says.
"We once had an event for about 60 people. If we did not have the bistro, we would have ended up using the spa."
Since opening the bistro, Kam and Demnati have realised that it also serves as a promotional channel for the spa, as the spa business is given more media coverage when product launches are held at the bistro.
The bistro itself has received its fair share of attention, particularly for its lamb koftas and authentic Turkish baklava. Customers love the food so much that they keep coming back for more, so much so the bistro is now experimenting with a brunch menu.
Expanding or revamping a business comes with a number of challenges. For Hammam Spas, insufficient manpower was one of them. "You have to be certain of where your manpower resources are coming from before taking on a revamp or expansion because that is where the success lies," Kam says.
Come up with new products
Sometimes, only a subtle change in the business model is needed. For Geeta Jayabalan, the founder of Culinary Capers, change began when she realised her catering business might not be sustainable over the long term, as businesses sometimes fail due to a lack of product differentiation.
The change had to come from within, says Geeta. She started by changing the way she ate. And when she saw the effects of having a healthier diet, she wanted to share her knowledge with others.
Geeta did plenty of research on food, from paleo diets to gluten-free alternatives and vegan meals. She covered all the bases before kicking off her new business model.
"Many people were starting to realise they could not take gluten," she says, adding that she met many people who were either lactose or gluten intolerant. In fact, she found out that she herself was lactose intolerant just two years ago.
Geeta decided that she was going to fill a niche in the market by catering healthy gluten and lactose-free meals for those who wanted a change in lifestyle too. "I went for a raw food course and the German teacher told us that there were three things people over 40, or even below that age, should stop consuming," she says. That was when she gave up white sugar, white flour and milk altogether.
In September last year, she introduced lunch boxes to cater for a wider audience — the working population. "I wanted to create something different with the dips I had become famous for, and it was quite natural to transition into lunch boxes," Geeta says. Catering, while lucrative for large groups, misses out on quite a large segment of the market.
Her lunch boxes, which change weekly, offer healthier alternatives to food such as nasi lemak or nasi briyani. "People normally focus on the calories, but they are not an indication of anything. There are empty calories. What is more important is to see the nutritional value of the food," says Geeta, who offers customers bulgur wheat or quinoa as a substitute for rice.
"I don't want to deprive my customers of food they are used to eating. This will alienate them. I always tell my customers that they can eat what they want, but just substitute certain ingredients to up the nutrition."
Geeta cautions against using a different business model just for the sake of change. "You have to be really passionate about it," she says. "Don't just follow trends. You have to practise what you preach and be an advocate of what you believe in."
Consolidate the business
Little Collins started out as a florist, bakery and café in Solaris Mont Kiara in 2009. The owner, Frances Voon, had big dreams for the business and wanted to combine the flowers and cakes that people buy for special occasions. She also sold fresh bread to walk-in customers. As for the café, she believed that by having this element, customers would have one more reason to stop by.
But this business model only worked for five years before Voon realised certain sections of the business had begun to wither. A slower economy meant people stopped spending as much on fresh flowers. Also, many bakeries were coming up in the area.
The café, however, was flourishing, riding the food and beverage culture that was taking off in Kuala Lumpur. On top of that, there was increasing demand for "couture" birthday cakes.
So, in 2012, Voon took some classes in cake decoration. With her strong background in design, everything went smoothly. Now, Little Collins is a full-fledged cakery and café.
Image is everything
With cafés sprouting everywhere like mushrooms, competition has become stiffer. Voon decided that a change in image was needed. She even bought a new coffee machine and learnt to use it. "We had to improve because of the growing coffee culture in Malaysia."
She also added interesting dishes such as pulled lamb sandwiches and baked eggs to the menu to cater for the brunch crowd.
Then, she hired an interior designer to help her make the shop stand out more. "We moved the front door, and this brightened up the whole shop," Voon says.
But that was just the beginning. Little Collins eventually went through a rebranding exercise, with a new logo and corporate colours to boot.
"We emphasised the cakery part of the business by putting a cake display right in the front of the shop for passers-by to admire," she says.
"Nowadays, the cake display is our main selling point. Even the types of cakes served are different. It used to be very basic, like chocolate and vanilla, but recently we have come up with more creative flavours such as banoffee and rocky road."
The ambience has also changed. "Previously, it was a little dim and cottage-like. But now, it is brighter and more modern," she says. This was accomplished by doing simple things such as painting the walls white, changing the lampshades and putting up posters.
All in, she spent RM40,000 to revamp the business. "It was a bit more than I expected, but it was worth it. I see the response of the customers and it is very positive."
According to Voon, there has been an increase in customers since the revamp late last year. "We have seen about a 30% increase in new customers since the rebranding."
Go where the customer is
Although a little late to the game, Voon has also hopped on the social media bandwagon, and with wonderful results.
"Food and cakes are very much centered around social gatherings," she says. "Thus, it is natural for people to share pictures or views of food and cakes on social media."
Voon opened an Instagram account at the end of last year, using the handle @littlecollinskl, and realised that a large portion of her target market was on the platform. "We aim to reach out to women aged between 20 and 40, and they are mostly on Instagram and tend to tag their friends in nice pictures of food."
So, she took to promoting the cakery and café on social media by offering Instagram or Facebook-specific promotions. As a result, there have been more orders for customised cakes.
"I did not realise how important it was to establish an online presence and connect with customers on a different level until I joined Instagram and Facebook," she says.
Because of the exposure her business has gained on Instagram, she now makes six customised cakes a week, compared with only two previously. "Little Collins has also attracted party planners and online errand-running service GoGet.my [which delivers the shop's customised cakes]," Voon says.
Her advice to entrepreneurs? "Be practical. Throw out what doesn't work. Don't hold on to what you like, but what brings in the profits, while still staying true to your brand."
This article first appeared in Unlisted & Unlimited, The Edge Malaysia Weekly, on May 11 - 17, 2015.