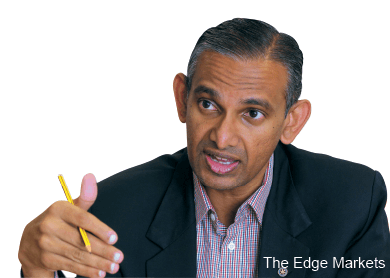 THE Secretariat for Empowerment of Indian Entrepreneurs (SEED) is on a mission — to increase the number of small and medium enterprises (SMEs) in the Indian community in the country.
At present, there are 38,138 Indian SMEs. However, only 3,497 are earning RM500,000 or more a year.
SEED director Datuk Dr A T Kumarajah says the number of Indian SMEs was never addressed before 2012 because Indian politicians had other issues to deal with, such as the demolition of temples, threatened closure of Tamil schools and shutting down of estates, which many poor Indians depended on for their livelihood.
"Today, Indians have effectively come out of the estates and our needs have changed. We need to find jobs or start businesses to support ourselves. So, now there is a call for help in starting our own companies," he adds.
SEED officially kicked off in August 2012. It had begun as an informal group, with Kumarajah and some friends launching an entrepreneurship training programme for Indians called Road Map 5.0.
"The programme got a lot of support as it exceeded expectations; some 1,200 participants attended. And because it was so successful, Prime Minister Datuk Seri Najib Razak asked us to do it on a larger scale," says Kumarajah.
He and his friends said they would do so if the government provided official support and funding. The government agreed to this.
SEED ran a programme called the Malaysian Indian Economic Conference from March to June 2012 in 10 districts across the country. The programme was carried out "town hall meeting"-style, giving aspiring entrepreneurs a chance to air their grievances.
The biggest of these was held in Klang, Selangor, where almost 2,500 people attended, while the smallest was in Kuala Terengganu, which saw 250 people turn up. In total, SEED interacted with some 10,000 entrepreneurs at these meetings, and it brought all of them together at an event held at the Mines International Exhibition and Convention Centre in June 2012.
What were their main issues? "They said they couldn't get the licences they needed or foreign workers to help run the business. They also couldn't get access to credit," says Kumarajah.
The participants were allowed to air their grievances without fear of reprisals. Kumarajah points out that if it had been done the old-fashioned way, where everyone was afraid to speak out, there would have been fewer than 200 people at the Klang session. As it was, the forums were open and generated lively discussions.
That is why the participants were able to raise issues such as the preferential treatment given to certain quarters and their lack of access to the funding provided by certain agencies — funding that was supposed to be for SMEs like theirs.
All this was compiled into a report and presented to the prime minister. After reading it, he agreed to five initiatives: credit facilitation, business advisory services, credit risk management, vendor development programmes by government-linked companies, and a monitoring and research unit for SEED.
In terms of credit facilitation, SEED has about RM180 million at its disposal from SME Corp Malaysia Bhd, Malaysian Industrial Development Finance Bhd and 13 Islamic banks. SEED's credit facilitation unit will also help Indian businesses submit credible proposals to banks and other financial institutions so they can get access to other forms of funding.
There are a number of financing schemes available to Indian entrepreneurs, such as the Indian Entrepreneur Development Scheme under Tabung Ekonomi Kumpulan Usaha Niaga (Tekun) Nasional, which provides Indian micro-enterprises and SMEs with facilities to kick-start or expand their businesses.
A new programme was recently introduced under this scheme to help taxi drivers. The Special Scheme for Indian Taxi Drivers provides a 20% loan to buy a new taxi or to replace a 10-year-old one and an RM8,000 loan to switch from petrol or diesel to NGV, or to repair or refurbish their taxis.
Many of the success stories on SEED's website relate to this particular financing scheme. For instance, Arumugam Manimuli of Janama Trading, who runs a transport business, was finding it difficult to make ends meet because he spent most of his earnings on the rent for his lorry. When he applied for a loan through Tekun to buy his own three-tonne lorry, he was pleasantly surprised at how quickly the loan was approved. Owning his own lorry helped to increase his earnings by 45%.
Jeya Kumar Arumugam, who has been running a cattle and buffalo ranch for the past 20 years, wanted to expand his business but was rejected by all the banks he applied to. He heard of the Tekun scheme on a Minnal FM Radio talk show and, having nothing to lose, decided to try this avenue. His loan of RM40,000 was approved in just a few weeks.
Another credit facilitation scheme is the SEED Start Up Nation, aimed at young Indian entrepreneurs, especially those who have just graduated from university or completed their skills-based training but remain unemployed. Housewives and single mothers who require financial assistance can also apply for a loan under this scheme to start a small business.
One beneficiary of this scheme was Saraswathy Dewi, 39, who, together with her husband Vellu, were taking care of 19 children, including 12 nieces and nephews. Vellu was a lorry driver and Saraswathy, a cook at a private hospital who had been laid off after nine years of service. The Sri Murugan Centre, a non-governmental organisation, read about her plight in a local newspaper and hooked her up with SEED. She received a RM5,000 loan to start a catering business.
SEED also offers the Soft Loan for SMEs scheme to assist enterprises and start-ups in the areas of project financing, purchasing fixed assets and even working capital.
The shariah-compliant SME Financing Scheme, meanwhile, provides financial assistance to eligible SMEs. Under this scheme, the government pays 2% of the profit rate on the financing provided by participating financial institutions.
The Microenterprise Enrichment & Enhancement Scheme helps microenterprises, and not just with money. It provides guidance on how to strengthen their core business, build capacity and capability, as well as facilitate access to funding. It also provides business and technical advisory services. There is a similar programme for SMEs known as the SME Business Accelerator Programme.
SEED is also looking at Malaysian Indians who have credit risk issues and have been blacklisted by either the Central Credit Reference Information System (CCRIS), Credit Tip-Off System (CTOS), or are bankrupt. It has partnered the Credit Counselling and Debt Management Agency to come up with a programme to help solve their financial woes and provide the necessary credit to help increase their incomes through entrepreneurial initiatives.
SEED has several initiatives under its Economic Transformation Unit, such as a business advisory and helping Indian contractors bid for contracts from the government or government-linked companies. Under this unit, it has set up a research and monitoring centre to collate, analyse and publish data on the success of SEED's various initiatives.
Kumarajah said at a recent press conference that SEED has helped 22,231 Indian entrepreneurs thus far, disbursing RM532.92 million in soft loans through government programmes and development finance institutions.
Looking at SEED's website, it would appear that most of the businesses are run on a small scale. Kumarajah agrees, but points out that one has to start somewhere.
"Yes, 91% of them are small businesses. And these small entrepreneurs should come out of the sunset industries they are in and go into industries such as healthcare or oil and gas."
But to do that, he adds, one would not need to trade in oil or open a hospital. "There is a lady in Labuan, for example, who provides transport services for Petronas staff. That is one way small entrepreneurs can extend their businesses into these industries.
"As for healthcare, you can start a nursing home. There is a demand for nursing homes now and if done properly, you could make a lot of money," Kumarajah says.
SEED is also trying to get Indian entrepreneurs involved in the halal industry. In October last year, it collaborated with the Halal Industry Development Corporation and Jabatan Kemajuan Islam Malaysia (Jakim) to organise a halal market awareness seminar to help the entrepreneurs gain a deeper understanding of building a world-class halal business. A total of 386 Indian entrepreneurs attended the event.
"At the moment, we have 54 halal companies, and we are aiming to double that," says Kumarajah.
When it started, SEED was an experiment and was only supposed to run for six months. "It has been three years now and we are a permanent unit under the Prime Minister's Department," he says.
This article first appeared in Unlisted & Unlimited, The Edge Malaysia Weekly, on March 9 - 15, 2015.