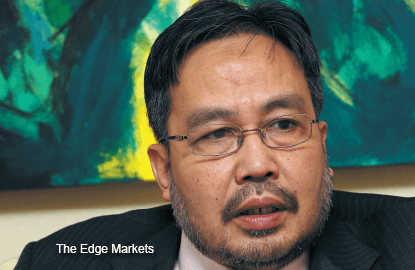 FEMALE small business owners finally have a financing programme designed exclusively for them after SME Bank Bhd launched its women entrepreneurs' financing programme last month.
The bank has allocated RM200 million for the programme and those who qualify can apply for loans of between RM500,000 and RM2.5 million, which can be used for working capital purposes or to acquire fixed assets. The programme is based on the Islamic financing concept, with a profit rate of 1.5% plus the basic financing rate of 6.85% per annum. The bank aims to disburse RM50 million this year alone.
SME Bank group managing director Datuk Mohd Radzif Mohd Yunus says the number of women entrepreneurs in the small and medium enterprise segment is expected to increase 10% over the next five years. At the moment, SMEs constitute 97% of the businesses in the country, and contribute 31% to the country's GDP. Of these businesses, 20% are owned and managed by female entrepreneurs.
According to the SME Masterplan 2012-2020, the government is targeting to increase SMEs' contribution to GDP to 41% by 2020, and women entrepreneurs are expected to play an important role in achieving this. "If the target is achieved, SMEs led by women are expected to account for one-third of the total SMEs," says Mohd Radzif.
He points out that female entrepreneurs have many excellent qualities and they are more conscientious about servicing their loans. "Over the years, we have found that women are good borrowers and highly responsible about paying off their loans. This is not a gender bias and we have not done any formal studies on it. But based on anecdotal evidence, we can say they are responsible when it comes to settling their debts. And when they default, it is generally because of an unfavourable business environment."
SME Bank is a development financial institution wholly owned by the government and this programme is in line with the bank's mandate to service specific target markets that get less attention from other financial institutions.
Mohd Radzif points out that Prime Minister Datuk Seri Najib Razak touched on the importance of female entrepreneurship in his keynote address at Invest Malaysia 2015. In his speech, Najib said the government had taken many steps to encourage women's participation in the workforce, including fully funded training programmes to help them become entrepreneurs and company directors.
The prime minister also mentioned that he welcomed the Securities Commission Malaysia's Corporate Governance Blueprint 2011 that aims to have women make up 30% of a company's board members by 2016.
"We are making progress. I am pleased to note that in the capital markets, women have taken up 19% of directorships in licensed firms, such as investment banks, stockbrokers and fund management companies.
"However, at the private limited company level, women currently make up only 10% of board members. I strongly encourage the private sector to intensify their efforts, as we know that diverse boardrooms are good for business," Najib said.
To apply for the programme, the entrepreneur must own a business registered under the Companies Commission of Malaysia or other authorised registration bodies. She must hold at least a 51% stake in a partnership firm or private limited company and be the key decision maker. Also, she must be in the business full-time.
Finally, the business should have been in operation for more than two years. This, Mohd Radzif says, is a basic requirement to demonstrate the business' sustainability.
He adds that any applicant that fulfils the three basic criteria is welcome to walk into SME Bank's headquarters in Jalan Sultan Ismail, Kuala Lumpur, for more information. There is a special desk to cater for all inquiries related to the programme.
SMEs operating outside the capital can walk into any of the bank's branches across the country and speak to the branch officer in charge.
However, it will take more than just the three criteria to qualify. Applicants should have other related documents on hand and a business plan, which will be assessed by the bank. Applicants are also required to attend a training programme called the Leaders Entrepreneurship Acceleration Programme (LEAP), organised by the Centre for Entrepreneur Development and Research Sdn Bhd (Cedar).
Cedar is the training, consultancy and research centre of SME Bank. The centre conducts an integrated coaching-cum-financing programme designed to put women entrepreneurs on the fast track and accelerate the growth of their companies. The structured four-day programme includes modules such as accelerating business growth with SME Bank, female entrepreneurship and the SME landscape, and a workshop to help you craft a bankable business plan.
Mohd Radzif says the purpose of the training programme is twofold — it helps the bank and entrepreneur get to know each other and allows the bank to assess the applicant's ability to manage a business.
"It is like an internship. You go for an interview, get a job, get into the internship programme and learn the ropes. This is the same. We will evaluate the applicant's ability and business acumen.
"We will also look at how they are going to expand their business. Just because a business is innovative doesn't mean it will be able to sell its products in the market," he adds.
The bank will do an assessment of the applicant and decide within 30 days whether to approve the loan. But it doesn't stop there. Mohd Radzif says the bank will continue to work with the applicant and provide business coaching to help them expand their business.
This is after all an Islamic loan and, as Mohd Radzif points out, shariah financing is all about partnership. This is where the training and coaching come into play.
"We view the applicant as a partner. This is why we tie the financing to the training and business coaching. In addition, shariah financing doesn't incur any processing fee."
While the women entrepreneurs' programme is aimed at supporting the industries under the National Key Economic Areas (NKEAs), the bank is broadening its financing scope to include other industries, such as food and beverage and construction.
Since many businesses owned and managed by women entrepreneurs are in these two areas, Mohd Radzif says this will allow them to build up the capacity of their business. "To achieve this, you definitely want to cater for the industry that they are already in and feel comfortable being in. If you narrow down the possibilities, you are not allowing them to contribute to the nation's GDP."
Throughout the years, SME Bank has financed several businesses owned and managed by women and is proud of the successes they have achieved. Among them are Petrotimur Engineering Sdn Bhd, Cassia Kitchen Sdn Bhd, Pointray Sdn Bhd and Fauzun Kabir Sdn Bhd. These women entrepreneurs have established their businesses in such sectors as oil and gas, food and beverage, steel and furniture manufacturing.
Mohd Radzif says successful female entrepreneurs have several key qualities in common, such as aggressiveness, passion and commitment. "In terms of wanting to do business, they are really aggressive. They understand the business and are really committed. They have the passion and an understanding of what is required to drive the business forward. They are also highly independent."
He thinks that the times have changed sufficiently so women have an easier time in the workplace as well as in business. There are more women in the corporate world as well as in high positions in government.
"It goes back to ability. If you have the ability, the bank doesn't look at whether you are male or female. It looks at how you put your case forward, how passionate and driven you are and what your track record is like," he says.
However, while the situation is much better than it used to be, he admits that it is not perfect. There are times when difficulties are created by unsupportive spouses who feel that these women should spend more time at home with their families. This has such an impact on their ability to service loans that SME Bank is thinking of including support from spouses as one of the assessment criteria in the future.
This article first appeared in Unlisted & Unlimited, The Edge Malaysia Weekly, on May 11 - 17, 2015.