This article first appeared in The Edge Financial Daily, on August 15, 2019.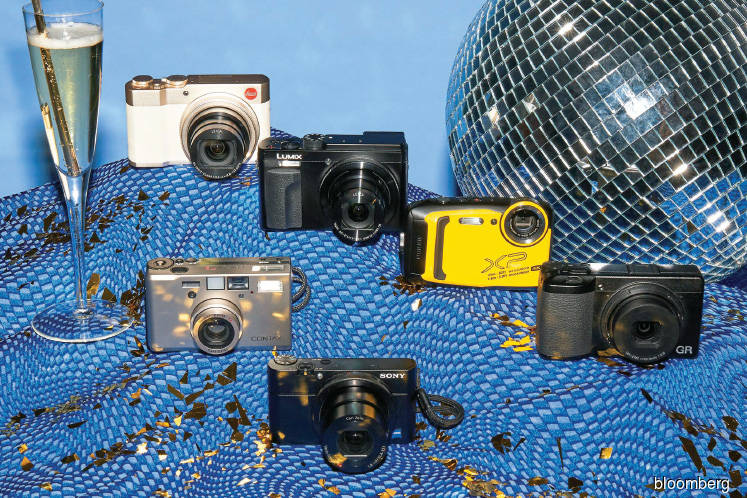 From left, top row: Leica C-Lux, Panasonic Lumix ZS200, Fuji FinePix XP140, Ricoh GR III. From left, bottom row: Contax T3, Sony Cyber-Shot DSC-RX100. Photo by Bloomberg
With the advent of the smartphone, the point-and-shoot camera would seem ­redundant. The whole idea, after all, is a device that is small enough to fit in a pocket and requires you only to "point and shoot." The category is nonetheless having a creative renaissance after years of declining sales. At the two most recent Met Galas, musician Frank Ocean and model Kendall Jenner brought along their '90s-era Contax T3s to document the festivities.
Think of the new point-and-shoot as Gen Z's version of the vintage Polaroid, but one that is lighter, can take high-­definition videos, and elevates the quality of your images in the quickest and most space-­effective way. Many new models can even be paired with mobile phones, so you can have your shot and Instagram it, too.
We road-tested the latest offerings from Ricoh, Fuji, and Panasonic — plus a few classics of the genre — and present six compact cameras that deliver, whether it is for a splash-prone pool party or a gala of your own.
The status purchase
When the Leica C-Lux came out in 2018, it bridged the gap between an accessible, easy-to-use compact and one that still retains the brand's prestigious analogue aura. A touchscreen quickly gets you to the camera's functions, and the body, though small, still has solid heft. It also offers an impressive zoom ranging from 24mm (very wide) to 360mm (very tight), but with a pedigree like this, the real fun is in the act of shooting. US$1,050 (RM4,389).
The road tripper
In addition to portability and 4K video, Panasonic's Lumix ZS200 has impressive zoom capabilities that do not sacrifice image quality. It has the same range, basic dimensions, number of megapixels (20), and weight (12 ounces) as the Leica C-Lux but at a lower price. Consider it for your safari vacation or the next US Open — situations when you will want to zoom in without actually moving. US$798.
The rough-terrain handler
Waterproof down to 82ft, able to sustain falls from almost 6ft, and functional in temperatures as low as 14F, the Fuji FinePix XP140 works well enough in places it is designed for — that is, underwater and extreme environments. Other cameras can capture higher-quality images, but rather than risk your phone or an expensive digital single-lens reflex (DSLR) camera, you can stick this small model, which came out in March, in your pocket before you dive into the pool or scale that mountain. US$260.
The powerful street magnet
Do not underestimate its cuteness: The little Ricoh GR III, also new this March, is a powerhouse of speed and resolution, which makes it best for outdoor events and capturing flurries of activity. If you want to "dabble" in street photography but do not want to carry around a larger DSLR, the Ricoh slips into a shirt pocket. It does not come with a built-in flash, though, and the lens is fixed, so, no, you cannot zoom. US$900.
The hypercompetent do-it-all
Elegant and rounded, the Sony Cyber-Shot DSC-RX100 comes with image stabilisation and a 10-frames-per-second continuous shooting mode to capture a scene fast. Do not expect to zoom far with this camera, but it can go up to 100mm for a tighter shot. And the pictures look so gorgeous, you would think it is a DSLR. Add in superior on-the-go video capabilities, and it is a no-brainer multitasker. US$448.
The nostalgic-for- the-'90s play
If vintage inspires you, grab a Contax T3. This camera shoots 35mm film — yes, the kind from "back then" — which you have to get developed. It is so old, it is not in production anymore; you will need to track down an owner on eBay or another secondhand site. But among film-based point-and-shoots, it is quite simply the best. Its Carl Zeiss lenses produce vivid images, and a built-in flash can light up the scene from more than 7ft away. From US$1,500. — Bloomberg