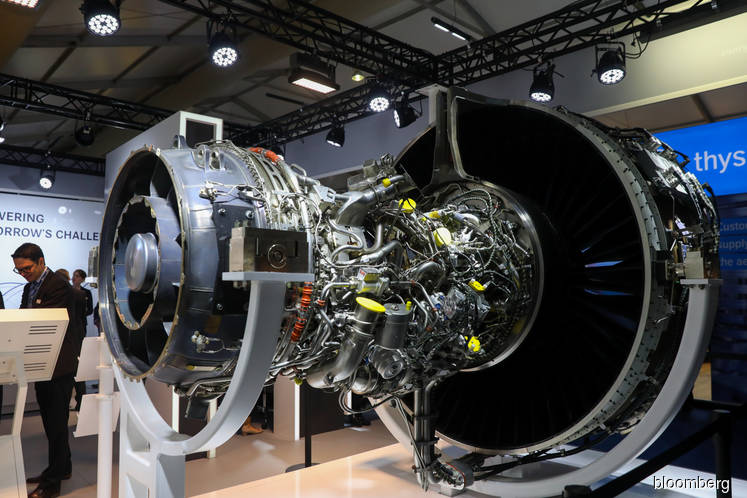 NEW YORK (Jan 23): United Technologies Corp jumped the most in almost three years, as the maker of jet engines and cockpit displays said the growing aviation market will fuel profit gains in 2019.
The upbeat forecast accompanied a report on fourth-quarter earnings that crushed Wall Street's expectations. "It's the culmination of the investments we have been making, especially on the aerospace side," Chief Executive Officer Greg Hayes said Wednesday on a conference call with analysts.
United Technologies is counting on a lift from aviation, which is increasingly central to its operations, after Hayes late last year wrapped up the long-delayed US$23 billion purchase of aircraft-parts maker Rockwell Collins Inc. He now plans to shed the company's elevator and air-conditioner businesses through a three-way split.
Investors should be encouraged by the company's "solid" forecast, Deane Dray, an analyst at RBC Capital Markets, said in a client note. With an organic sales-growth outlook of 3% to 5%, United Technologies "is not baking in any global slowing."
The shares surged 4.6% to US$116.15 at 10:28 a.m. in New York, after gaining as much as 7.5%, the most intraday since February 2016. United Technologies fell 17% last year, slightly worse than the 15% drop in a Standard & Poor's index of industrial companies.
Adjusted earnings will be US$7.70 to US$8 a share this year, the company said in a statement. The midpoint topped the US$7.78 average of analyst estimates, even as the manufacturer cited adverse currency effects and a higher tax rate.
Earnings Beat
Fourth-quarter adjusted profit rose to US$1.95 a share. That topped the highest analyst estimate in a Bloomberg survey and easily surpassed the average prediction of US$1.53. Sales of US$18 billion beat expectations, amid gains in all four divisions.
The growing aviation market gave a substantial boost to the company's aircraft-parts businesses. Sales at Collins Aerospace Systems, the parts maker that includes Rockwell Collins, surged 29%, while revenue for the Pratt & Whitney jet-engine business jumped 24%.
For 2018, sales rose 8%, excluding the effects of currency and portfolio changes, which marks the "best year in over a decade for organic growth," Hayes said.