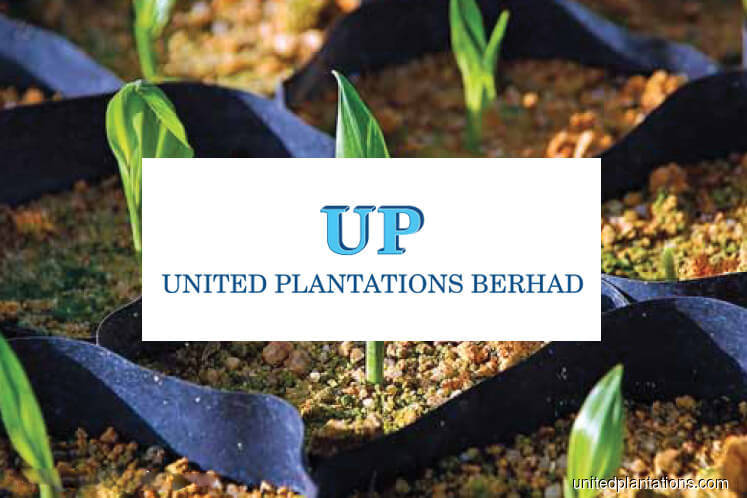 KUALA LUMPUR (Aug 20): United Plantations Bhd's net profit fell 22.4% to RM87.25 million in the second quarter ended June 30, 2018 (2QFY18), from RM112.41 million a year ago, on lower revenue.
Earnings per shares were lower at 41.99 sen for 2QFY18 compared with 54.1 sen for 2QFY17.
Quarterly revenue dropped 12.8% to RM309.93 million versus RM355.26 million in 2QFY17.
In a filing with Bursa Malaysia today, United Plantations attributed the weak quarterly revenue to a decrease in its plantations business due to lower palm kernel (PK) price in the Malaysian operations by 24.9%, and lower crude palm oil (CPO) and PK prices in the Indonesian operations by 19.4% and 23.4% respectively, in 2QFY18.
The production cost of CPO was also higher by 8.3% mainly due to higher manuring costs, while cost of production of PK was marginally lower by 0.8%.
Additionally, with the weakening of rupiah against ringgit, the holding companies' investments in Indonesia recorded RM5.7 million in foreign exchange (forex) losses from rupiah loans extended to Indonesian subsidiaries in the current quarter under review, compared with forex losses of RM5.3 million a year ago.
For the cumulative six months ended June 30, 2018 (1HFY18), United Plantations saw its net profit fall 1.9% year-on-year to RM187.75 million from RM191.28 million, while revenue was 13.6% lower at RM635.47 million, compared with RM734.5 million a year ago.
Moving forward, with the prices contracted under its forward sales policy and with its Indonesian production improving coupled with large areas steadily coming into maturity from United Plantations' replanted areas in Malaysia, the group expects the results for 2018 will be satisfactory.
Shares of United Plantations closed 60 sen or 2.19% at RM26.82 today, valuing it at RM5.57 billion.