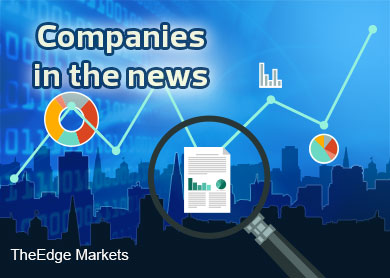 KUALA LUMPUR (Oct 30): Based on news flow and corporate announcements today, companies that may be in focus tomorrow (Oct 31) could include: Unisem (M) Bhd, Tek Seng Holdings Bhd, AirAsia Bhd, Signature International Bhd, YGL Convergence Bhd and SMTrack Bhd.
Unisem (M) Bhd posted a net profit of RM27.12 million or 4.02 sen per share for the third quarter ended Sept 30, 2014 (3QFY14), against a net loss of RM648,000 in the previous corresponding quarter.
The semiconductor manufacturer attributed the improved earnings to higher sales volume, lower overhead cost and better capacity utilization. Quarterly revenue grew 11% to RM273.27 million, from RM246.78 million.
Unisem declared a tax-exempt interim dividend of 4% or two sen per share.
On prospects, Unisem expects its performance to remain "satisfactory" in 4QFY14.
Unisem closed up 3 sen or 1.82% at RM1.68, giving it a market capitalization of RM1.13 billion.
Tek Seng Holdings Bhd, a Penang-based PVC products manufacturer, has proposed a bonus issue of up to 120 million free warrants, on the basis of one free warrant for every two existing Tek Seng shares.  
In a filing with the exchange today, the company said the fixed exercise price of the warrants will be at 25 sen per warrant, being the par value of Tek Seng shares.
"The proposed bonus issue of warrants is not expected to raise any funds, as the warrants will be issued at no cost to the entitled shareholders," said Tek Seng, adding if the warrants were fully exercised, the company would raise proceeds of approximately RM300 million, which will be utilized for its working capital.  
The company is also seeking to increase its authorized share capital from RM100 million comprising 400 million Tek Seng shares, to RM500 million comprising two billion Tek Seng shares.
Tek Seng closed down 0.5 sen or 0.60% at 83 sen, giving it a market capitalization of RM199.2 million.  
AirAsia Bhd has proposed to establish the Sukuk Mudharabah Programme of up to RM1 billion in nominal value, as part of its funding plan. The low cost carrier intends to allocate up to 55% or RM550 million of the proceeds raised, to part finance its capital expenditure (capex) requirements.  
In a filing with Bursa Malaysia, AirAsia said the capex requirements are pursuant to, without limitation, its aircraft purchase programme — where deposits and/or contributions are required for the transaction and purchase of the relevant spare parts.  
Meanwhile, RM300 million has been set aside to refinance its banking facility granted to the issuer, RM2.5 million to be utilized in estimated expenses, with the remaining balance to be utilized for Shariah-compliant working capital purposes to support its business operations, administrative and operating expenses.
AirAsia said the Securities Commission Malaysia (SC) has approved of the establishment and issuance of Sukuk, vide its letter on Oct 29.
AirAsia closed up 7 sen or 2.95% at RM2.44, giving it a market capitalization of RM6.7 billion.  
Signature International Bhd posted a net profit of RM8.76 million in the fourth quarter ended June 30, 2014, compared with a net loss of RM1.05 million a year ago, which the company attributed to higher revenue recognized from the kitchen and wardrobe segment.
"This increase is also resulted from the projects completed in the quarter that has high margin, as well as costs saving from some projects," it told Bursa Malaysia in a filing. Quarterly revenue soared 73% to RM63.55, from RM36.69 million previously, for the same reason.
Signature proposed a first and final single tier dividend of five sen per share for FY14.
For the full year, Signature saw its net profit jump almost triple to RM19.57 million, from RM5.05 million last year. Revenue meanwhile expanded by nearly 48% to RM178.7 million, compared with RM120.85 million a year ago.  
Signature closed unchanged at RM1.74, giving it a market capitalization of RM208.8 million.  
YGL Convergence Bhd (YGL), in a response to Bursa Malaysia's unusual market activity (UMA) query issued today, denied it is aware of the reason for any corporate development leading to the recent rise in price and volume of shares traded.
YGL was among the most actively-traded stocks on Bursa Malaysia today, with over 49 million shares changed hands. Its share price had risen almost 50%, from 24.5 sen as at Oct 1.  
The Edge Research said that YGL is seen as one of the potential gainers from the billion-ringgit GST-compliant software market.
YGL closed up 2 sen or 5.80%, giving it a market capitalization of RM64.23 million.  
SMTrack Bhd expects to return to profitability in the financial year ended Sept 30, 2015 (FY15), after posting losses since FY11, said its chief executive officer Yow Lock Sen, driven by proposed ventures in the US, China and the Middle East, as well as through mergers and acquisitions.
"This time, we want to take a 'quantum leap' by pursuing the inorganic growth path, along with organic growth strategy. We need to look [at] the world as our oyster," he said at a news conference today.
Yow added that between 80% and 90% will be derived from its overseas expansion, as he sees "lucrative business and ample opportunities" there.
The group saw its net loss for FY13 widen to RM17.11 million, from RM2.68 million a year ago, on higher administrative expenses and cost of sales. Revenue dropped 14% to RM1.16 million, from RM1.34 million respectively.
SMTrack closed down 0.5 sen or 4.35%, giving it a market capitalization of RM29.96 million.