This article first appeared in The Edge Financial Daily, on October 30, 2019.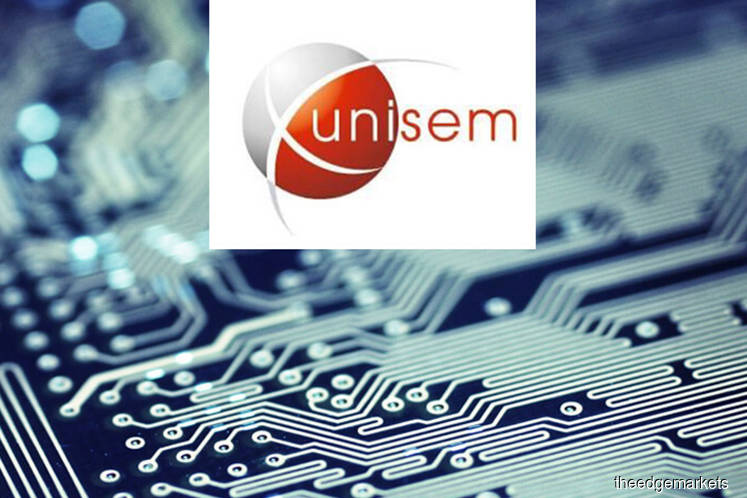 Unisem (M) Bhd
(Oct 29, RM2.43)
Maintain sell with a higher target price (TP) of RM1.80: Unisem (M) Bhd posted a loss of RM3.2 million for the third quarter of financial year 2019 (3QFY19). Excluding exceptional items mainly consisting of severance and reversal of retirement benefits in PT Unisem of RM22.4 million and a foreign exchange gain of RM4.4 million, Unisem's 3Q normalised earnings was at RM14.7 million — a 45.5% decline year-on-year (y-o-y). The earnings decline was mainly attributable to a lower sales volume across all regions and a higher deferred tax expense, negatively impacting 3Q profit margin to 4.7% from 7.9% in 3QFY18.
 
Its 3Q revenue reduced by 7.8% y-o-y to RM316.3 million. Based on market segment, its revenue from the automotive segment declined the fastest at 18.1% y-o-y, followed by industrial (-7.8% y-o-y), personal computer (-7.8% y-o-y), consumer (-4.5% y-o-y) and communication (-3.8% y-o-y).
Unisem's 3Q capital expenditure (capex) eased 21.3% y-o-y to RM34 million after a heightened capex in the first half of 2019. Collectively, its nine months (9M) of the year capex amounted to RM197.4 million, up 60.9% y-o-y. Take note that 3Q capex was mainly incurred for final bump fab investments, testers and handlers and end-of-line upgrades for the plater and laser mark. Cumulatively, its 9M normalised earnings of RM34.1 million was a 46.8% contraction y-o-y — within our but below consensus expectations, accounting for 70.4% and 51.5% of FY19 earnings estimates respectively
We have revised our TP to RM1.80 from RM1.38 previously. While our FY19 and FY20 earnings estimates are unchanged, our forward price-earnings ratio (PER) is updated from 16 times previously to 20.9 times, the group's two-year historical average PER. We view the revised valuation multiple corresponds with a positive development concerning the US-China trade war.
The group still posts dismal earnings due to lower demand arising from a weaker smartphone and lower car sales from China, leading to an unfavourable change in the product mix and a lower utilisation rate negatively impacting profit margin. Its Batam plant's planned closure, rescheduled to March 2020, further reinforces our view that Unisem's earnings outlook remains grim.
Meanwhile, Unisem had yet to benefit from a strategic partnership for the expansion and development of the group's business with its partner in China, Huatian Technology (M) Sdn Bhd. As we do not foresee any significant earnings catalysts to lift Unisem's future financial performance, we are maintaining our "sell" recommendation on the stock. — MIDF Research, Oct 29