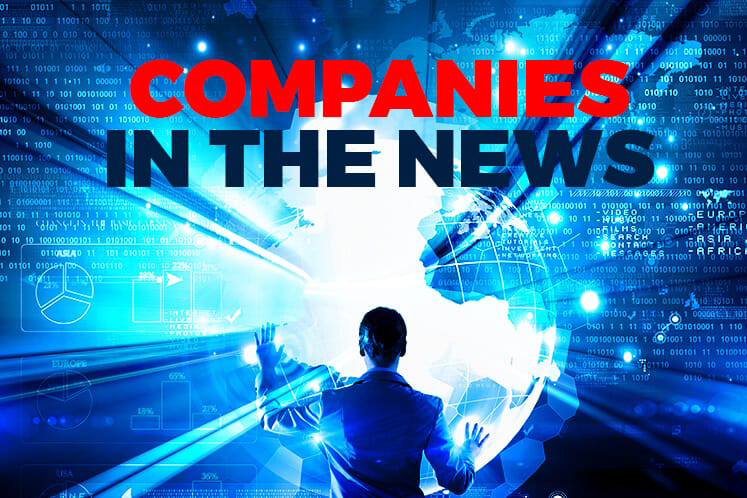 KUALA LUMPUR (April 24): Based on corporate announcements and news flow today, companies that may be in focus tomorrow (April 25) may include the following: Unisem (M) Bhd, Globetronics Technology Bhd, Minetech Resources Bhd, Lotte Chemical Titan Holding Bhd, Sarawak Consolidated Industries Bhd, Westports Holdings Bhd, Capitaland Malaysia Mall Trust (CMMT), Tasek Corp Bhd, IHH Healthcare Bhd and Eka Noodles Bhd.
Semiconductor manufacturer Unisem (M) Bhd's net profit slumped 87% to RM6.05 million in the first quarter ended March 31, 2018 (1QFY18), versus RM44.9 million a year ago, due to a weaker US dollar against the ringgit, and lower profit margins arising from a change in product mix.
Unisem also attributed the lower earnings to the recognition of foreign exchange losses of RM9.95 million. Its quarterly revenue retreated 11% to RM321.55 million from RM360.25 million — again mainly because of the depreciation of the USD/MYR exchange rate.
Globetronics Technology Bhd saw its net profit surge 3.25 times to RM15.19 million in the first quarter ended March 31, 2018 (1QFY18) from RM4.67 million a year ago, on higher volume loadings of products from certain customers in the group.
This resulted in higher earnings per share of 5.32 sen in 1QFY18 from 1.65 sen in 1QFY17. Quarterly revenue grew 73.6% to RM86.49 million in 1QFY18 from RM49.83 million a year ago.
Minetech Resources Bhd's 70%-owned subsidiary Coral Power Sdn Bhd has bagged a contract to build a large-scale solar photovoltaic (PV) plant of 9.99 MWac of capacity in Manjung, Perak at the offer price of 37.5 sen per kWh for a period of 21 years.
Minetech said Coral Power has accepted the letter of award from the Energy Commission for the proposed project and the commercial operation date will not be later than Aug 31, 2020. The contract is expected to contribute positively to the group's earnings and net assets after 2020.
Lotte Chemical Titan Holding Bhd (LCT) said a final decision on its integrated petrochemical facility project in Indonesia could be reached by year end or early next year, depending on completion of the feasibility study and environmental impact assessment, which are now at the tail-end.  
LCT is looking to construct a naptha cracker with a capacity of one million tonnes next to its existing plant in Merak, Cilegon in Indonesia's Banten province.
The mega project, which is estimated to cost about US$3 billion (RM11.72 billion) to US$4 billion, will take three to four years to complete.
Sarawak Consolidated Industries Bhd has terminated its share sale agreement (SSA) to acquire the owner and operator of an industrialised building system (IBS) factory Carlton Gardens Sdn Bhd for RM9.5 million.
In return, it is claiming for yet-to-be-quantified losses and damages suffered due to what it alleged were the sellers' breach of contract and/or misprepresentation.
Westports Holdings Bhd, which expects to register weak performance in container volume in the first half of this year, expects container traffic to pick up in the second half, driven by normalisation in the realignment of shipping alliances. For 2018, Westports expects to have a slight modest growth of low single digit.
Capitaland Malaysia Mall Trust's (CMMT) net property income fell 4.5% year-on-year to RM57.05 million in the first quarter that ended March 31 (1QFY18) from RM59.72 million a year ago, dragged by lower contribution from its Klang Valley shopping malls and an office tower.
Distribution per unit slid 2.9% y-o-y to 2.02 sen, from 2.08 sen; distributable income slid to RM41.22 million from RM42.32 million.
Tasek Corp Bhd posted its second straight quarterly loss in the first quarter ended March 31, 2018 (1QFY18), registering a net loss of RM4.43 million or 3.66 sen per share compared to a net profit of RM3.56 million or 2.91 sen per share a year ago.
Tasek attributed the weak quarterly performance to intense price competition, which continued to negatively affect the average net selling price for both cement and ready-mixed concrete segments.
Its quarterly revenue, however, grew 3% to RM136.33 million in 1QFY18 from RM132.33 million in 1QFY17.
IHH Healthcare Bhd has submitted a revised proposal to participate in Fortis Healthcare Ltd and its affiliates with a binding offer (without any due diligence) that will see an immediate injection of primary equity of INR650 crores or RM382.6 million into Fortis, at a valuation of INR160 per share or RM9.42 per share.
The injection will be done by way of a preferential issue and allotment of equity shares, with IHH given the right to appoint two directors on the board of Fortis.
IHH also added that a non-binding proposal to infuse up to INR3,350 crores or RM1.97 billion through a subsequent preferential issue and allotment of equity shares, subject to satisfactory completion of the due diligence and execution of mutually binding definitive documents.
The court has ruled against Eka Noodles Bhd in its judgement favouring Bank Pertanian Malaysia Bhd in relation to a lawsuit filed against it and wholly-owned unit Kilang Bihun Bersatu Sdn Bhd, involving claims of at least RM7.1 million plus interest.