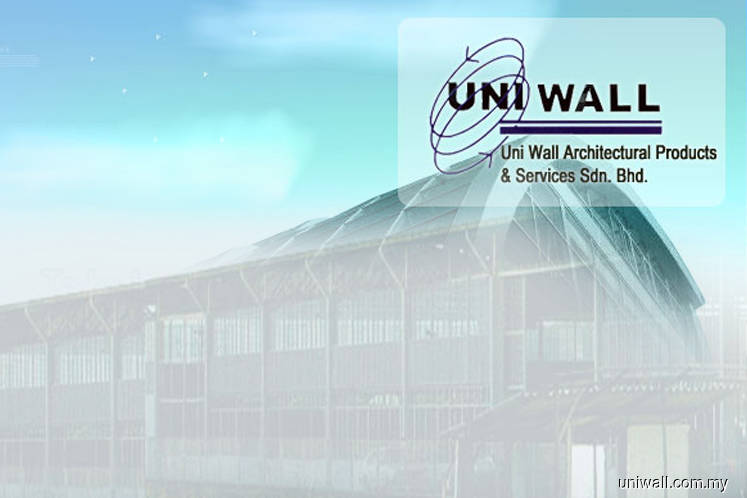 KUALA LUMPUR (Dec 21): Uni Wall APS Holdings Bhd, which provides building façade services to property developers, is seeking to list its shares on the Leap Market of Bursa Malaysia.
The tentative listing date is Jan 15, 2019. The company hopes to raise RM7.31 million from the private placement to sophisticated investors, it said in a filing with Bursa Malaysia.
Of the proceeds, Uni Wall plans to set aside 47.9% or RM3.5 million for capital expenditure (capex), 41.2% or RM3.01 million for working capital, and the remaining 10.9% or RM800,000 for estimated listing expenses.
Uni Wall said it intends to use its capex to defray the cost of setting up a new factory on the vacant land adjacent to the group's existing factory and head office in Semenyih, Selangor.
The total estimated cost for the set-up of the new factory is RM13.2 million.
The remaining capex for the new factory of RM9.7 million will be funded vide internally-generated funds and bank borrowings, the group said.
Uni Wall plans to issue 45.7 million shares, representing 12.5% of the enlarged share capital, at an indicative price of 16 sen per share. At this price, the company will have a market capitalisation of RM58.51 million upon listing.
Currently, Uni Wall executive chairman Siow Hon Yong and its managing director Siow Hon Yuen have full control over the company via their stake in Hysiow Holdings Sdn Bhd.
Once Uni Wall is listed, the duo's stake in the company will be diluted to 87.5%.
Some of the notable building facade projects that have been secured by the group include for the Underwater World in Langkawi and The Plaza Condominium in Taman Tun Dr Ismail in Kuala Lumpur.
For its financial year ended Dec 31, 2017, Uni Wall reported a net profit of RM3.64 million against RM891,000 in FY16, while revenue grew 62.8% to RM9.36 million.