This article first appeared in The Edge Malaysia Weekly, on May 6, 2019 - May 12, 2019.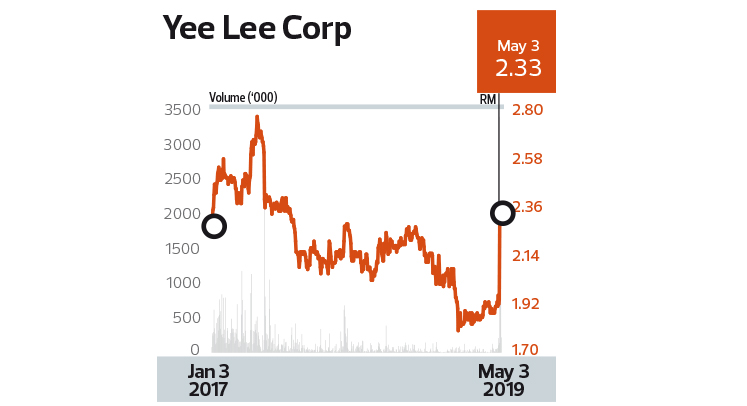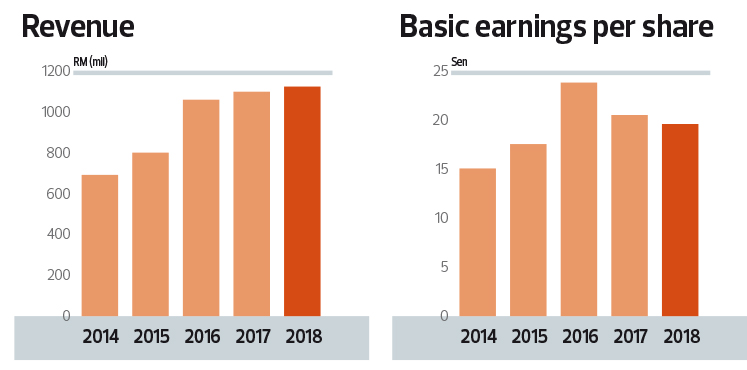 YEE Lee Corp Bhd is the privatisation target of private equity fund Dymon Asia Private Equity (S.E. Asia) Fund II Ptd Ltd, which has been on the prowl for undervalued public-listed assets in the region.
The offer price for Yee Lee is at a 20% premium to its last traded price of RM1.94 before the takeover bid was made. However, it is 29% below its net asset value per share of RM3.29 as at end-2018.
Dymon Asia joined hands with Yee Lee's founder, Datuk Lim A Heng @ Lim Kok Cheong, and his family two weeks ago to launch a takeover offer of RM2.33 per share (including a four sen dividend declared in February) to buy out the 50-year-old Ipoh-based trading company. Its assets include a 29.87% stake in drinking water manufacturer Spritzer Bhd, oil palm and tea plantations and packaging material manufacturing plants. Minority shareholders who are entitled to the dividend will receive RM2.29 per share.
The offer values the company at RM446.4 million.
The last time Yee Lee's shares were traded at RM2.33 apiece was in August 2017. Since then, the share price has been in the doldrums and had drifted to a three-year low of RM1.80 in December last year.
The shares are thinly traded, with an average daily volume of 150,000 in the past five years. Given the lack of liquidity, investors could be seen as being trapped in the illiquid stock as any selling would easily pull down the share price.
Yee Lee has appointed Affin Hwang Investment Bank Bhd as the independent adviser to the non-interested directors and minority shareholders on the fairness and reasonableness of the takeover offer.
Judging by past deals, the independent adviser is expected to say the privatisation offer provides an exit for minorities at a premium to the market price.
If the minority shareholders decline the offer, the pertinent question is probably,  when will Yee Lee trade above the RM2 level again? Furthermore, with the current weak market sentiment, given the gloomy global economic outlook, the takeover offer could be a timely exit.
Always profitable
Yee Lee is probably not on traders' radar screens, but value investors would appreciate it because of its steady earnings (the company has never made a loss since it was listed in 1993), healthy cash flow, clean balance sheet with minimum borrowings and regular dividends.
Earnings have been growing since 2007, although there was a drop in net profit in some years. Full-year net profit for FY2008 was RM17.39 million, which leapt to a record high of RM44.48 million in FY2016, before retreating to RM37.47 million in FY2018.
Because of its steady earnings, Yee Lee had retained earnings of RM508.7 million as at end-2018 versus its issued shares of 191.6 million. The whopping sum indicates the potential dividend that Yee Lee will declare eventually, whenever the company's cash flow allows.
Apart from money generated from the normal course of business, the company's dividend could come from asset sales that raise fresh cash. For this, shareholders will have to count on the board and management's efforts to unlock the value of the company's assets.
"Investors are entitled to the portion of retained earnings that is accrued to them based on their shareholding. When investors are forced out by another shareholder at below these values, I feel that it is a deprivation of what rightfully belongs to the minorities," a fund manager comments.
He says the group could undertake share buyback and cancel the shares that were bought back to enhance shareholders' value, since the shares are generally undervalued.
"Management, which is also the controlling shareholder, should know better than anyone else the fair value of the company, given all the assets it owns. It seems that the major shareholders have opted for the easy way out instead of working on monetising asset value to enhance shareholders' value," the fund manager adds.
Yee Lee could be considered an asset-laden company, given its plantation land, but certainly not debt-laden.
It has a strong balance sheet with total borrowings of RM149.78 million, of which RM129.79 million comprised current liabilities, as at Dec 31, 2018, compared with its shareholder equity of RM630.9 million.
This explains why Dymon Asia does not mind paying a premium to take it private.
Undervalued assets
The offer no doubt provides a timely exit at a premium to market value. But should the market price be the benchmark for a fair valuation?
Yee Lee is commonly known as the parent company of Spritzer Bhd. Its 29.87% stake in the company, which is currently trading at a price-earnings ratio of roughly 19 times, is seen as Yee Lee's jewel in the crown. The Spritzer block is worth RM143.79 million, based on last Thursday's closing price of RM2.30. In other words, Dymon Asia — which has set up a special purpose vehicle, Langit Makmur Sdn Bhd, to undertake the privatisation — and the Lim family are paying RM302.6 million for all other assets and businesses in Yee Lee.
Yee Lee, which started off as an edible oils repacker in 1968, has more than just the Spritzer shares that have attracted Dymon Asia.
The company has established house­hold brand, Helang (Red Eagle) for its cooking oil and it has the in-house Sabah Tea brand. Yee Lee also exclusively distributes Campbell and Red Bull products in Malaysia. The fast-moving consumer goods distributor took over the exclusive distribution of Red Bull energy drinks in Malaysia from Fraser & Neave Holdings Bhd in August 2015.
Yee Lee manufactures corrugated carton boxes and aerosol cans, which are widely used for insecticide spray, industrial and personal care products. It has two aerosol can factories, with the larger  one in Rawang and the other in Ho Chi Minh City, Vietnam. The two plants have a combined annual production capacity of 192 million cans, of which about 68% is from the Rawang factory.
Yee Lee owns 1,454ha of oil palm plantations, including a 1,158ha newly developed estate in Ranau, Sabah. The total cultivated area stands at 1,165ha, of which 265ha are in Perak, comprising 151ha of mature areas and 114ha of immature areas, according to its 2018 annual report.
The average age profile of the oil palm is 22 years. The Ranau estate has 900ha under cultivation and is expecting the first harvest this year.
Few may be aware that Yee Lee owns the largest commercial tea plantation in Borneo — sitting on 6,200 acres of it at 690m above sea level. It takes pride in the fact that the tea plantation is surrounded by the world's oldest rainforest. If this loss-making tea plantation were to be put up for sale, how much would it be worth?
Yee Lee's top 10 properties, which were revalued in 2015, carried a net book value of RM274.33 million, as stated in the 2018 annual report, while its stake in Spritzer is worth RM143.79 million.
Simple mathematics suggests that Dymon Asia may have got a sweet deal. Minorities will now wait for the independent adviser's advice if the offer is another "unfair but reasonable" one.