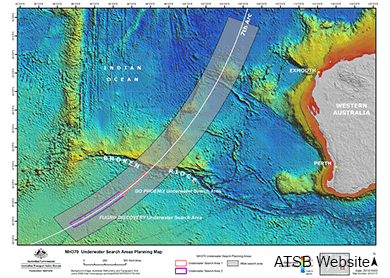 (December 18): The underwater search for Malaysia Airlines flight MH370 is expected to be completed around May, an update by the the Australian Transport Safety Bureau (ATSB) said on its website.
The authority leading the underwater search for the missing aircraft said so far, over 11,000 square kilometres of the seafloor had been searched.
"Assuming no significant delays with vessels, equipment or from the weather, the current underwater search area may be largely completed around May 2015" said a statement on its website.
In addition to locating the aircraft, the underwater search also aims to map the MH370 debris field in order to identify and prioritise the recovery of specific aircraft components, including flight recorders, which will assist with the Malaysian investigation.
The ATSB has utilised the data from the bathymetric survey work to prepare the initial plan for the underwater search. The plan includes search timings, methods, procedures, safety precautions and the initial search areas for the various vessels, the statement said.
The ATSB said bathymetry survey vessels had spent months at sea, scanning the seafloor with multibeam sonar to gather detailed, high-resolution data. The data has revealed many seabed features for the first time.
It has been nine months since Flight MH370 disappeared from the radar en route to Beijing from Kuala Lumpur on March 8 with 13 crew members and 227 passengers on board.
Despite the biggest and costliest search and rescue operation mounted in aviation history, authorities have not been able to trace the missing aircraft which is believed to have crashed in the southern Indian Ocean.
Three vessels, the Fugro Equator, the Fugro Discovery and GO Phoenix are involved in the underwater search operations. – The Malaysian Insider