This article first appeared in The Edge Financial Daily, on April 26, 2018.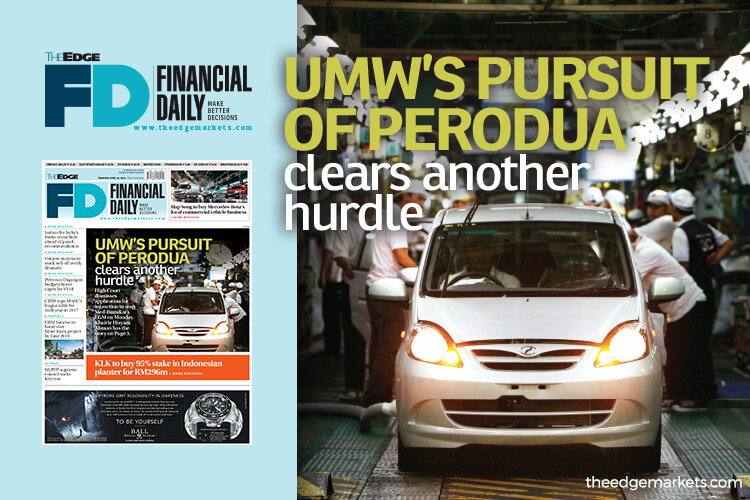 KUALA LUMPUR: UMW Holdings Bhd's takeover pursuit of listed automotive group MBM Resources Bhd (MBMR) has overcome another hurdle ahead of a crucial vote on Monday.
Dissenting shareholders in Med-Bumikar Mara Sdn Bhd, who are opposed to UMW's offer to buy the privately held company's 50.07% stake in MBMR, had filed for an injunction to stop Med-Bumikar's extraordinary general meeting (EGM) scheduled for Monday.
The EGM will see Med-Bumikar shareholders vote in favour or against UMW's offer for the company's controlling stake in MBMR.
The application for injunction marked a last-ditch attempt to halt the attempted takeover. However, the Kuala Lumpur High Court in a hearing yesterday dismissed the application with costs. The court decision is set to pave the way for a favourable outcome for UMW at the upcoming EGM.
The Edge Malaysia weekly reported on April 23 that shareholders holding equity interest amounting to 52% in Med-Bumikar were poised to vote in favour of the offer. This included Majlis Amanah Raya (Mara), which has a 29% stake in Med-Bumikar.
The Looi and Wong families were also in favour. The two families are among six different families that each control between 11% and 13% of Med-Bumikar's shares. The remaining four families, controlling a 48% block, are understood to be opposing the offer.
To recap, UMW had offered RM2.56 per share for the MBMR shares held by Med-Bumikar, a 16.36% premium to its market value when the offer was first announced on March 9. The offer values MBMR at RM1 billion and UMW had separately proposed a rights issue to raise as much as RM1.1 billion to fund its proposed takeover. However, Med-Bumikar's board on March 26 had voted to reject the offer upon advice from its bankers, saying the offer undervalues the stake. In a previous interview, Med-Bumikar executive chairman Datuk Abdul Rahim Abdul Halim told The Edge Malaysia weekly that RM3.68, the net tangible asset valuation per MBMR share, would be a fairer price tag.
Following the rejection, UMW extended the deadline for acceptance from March 28 to April 30 but did not raise the offer price, saying it would continue to engage with various stakeholders.
The Edge Malaysia weekly had also reported that the four opposing families had offered to buy out Mara and the Looi and Wong families at a similar price tag to UMW's offer. It is learnt that, however, Mara and the Looi and Wong families had rejected the counter-offer.
The crown jewel of the bid for MBMR is the control over Perusahaan Otomobil Kedua Sdn Bhd (Perodua), the country's largest carmaker. Already, UMW holds a 38% stake in Perodua, while MBMR owns 22.58%. Other shareholders in Perodua are Daihatsu Motor Corp, the carmaker's technological partner, with a 30% stake, and UMW's majority shareholder Permodalan Nasional Bhd (PNB) which holds 10% via PNB Equity Resource Sdn Bhd.
Should UMW gain majority shareholding in MBMR, it would be able to exercise majority control over Perodua — marking the first time in the national carmaker's history that it has a majority shareholder. It is a lucrative prize for UMW as Perodua had a 35% market share in the local automotive sector as at 2017. That market share hit 40.9% in February this year, reports say.
The national carmaker recorded RM9.05 billion in revenue for the financial year ended Dec 31, 2016. In that year, Perodua clocked RM463.59 million in net profit and paid out RM205.94 million in dividends. Apart from the 22.58% stake held by MBMR, UMW is also separately offering RM417.5 million for the 10% held by PNB Equity Resource. PNB Equity Resource had asked for a time extension and is slated to respond by Monday at the latest.
While UMW is set to have its way for majority control of MBMR, a critical hurdle remains: Perodua's Japanese partner Daihatsu. At present, it would seem that Daihatsu still needs some convincing on the merits of the takeover.
The Edge Malaysia weekly reported that Daihatsu had expressed its displeasure in writing late last month over how the takeover bid was conducted. The company had also warned that it may review its relationship with Perodua, implying that technological transfer among others may come under jeopardy. On April 18, the Perodua Labour Union also raised concerns about how a proposed takeover may upset Daihatsu in addition to harming the interests of its members.