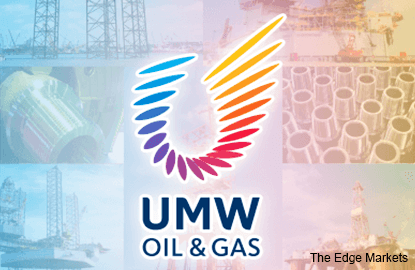 KUALA LUMPUR (Jan 19): UMW Oil & Gas Bhd (UMWOG) has kick started the consolidation among local oil and gas (O&G) players with its planned demerger from UMW Holdings Bhd (UMWH). UMWOG will in turn acquire Ekuiti Nasional Bhd (Ekuinas)'s O&G assets.
UMWOG's acquisitions are valued at RM721.61 million.
UMWH has announced today its biggest move to exit the O&G sector by demerging with the listed O&G unit through a proposed 'distribution in specie' of its 55.73% stake in UMWOG back to all entitled shareholders.
Subsequently, the group plans to progressively exit its 12 non-listed O&G assets by end FY2018 and focus on its core businesses instead.
"Our long-term strategy goals for UMWH include enhancing returns from our automotive division, expanding into high value manufacturing and engineering, and improving our equipment division," UMWH president Badrul Feisal Abdul Rahim said.
UMWOG entered into two sales purchase agreements with Ekuinas to consolidate all of the latter's O&G assets, namely Icon Offshore Bhd and Orkim Sdn Bhd, with UMWOG.
UMWOG will acquire Ekuinas' 42.3% indirect stake in Icon Offshore for RM248.88 million via the issuance of new UMWOG shares, and subsequently undertake a mandatory takeover offer for all remaining shares in Icon Offshore at a consideration of 50 sen a share to be satisfied either via cash or issuance of new UMWOG shares at 80 sen per share.
The group will also acquire 95.5% interest in Orkim for a cash consideration of RM472.7 million combined with RM80 million owed by Orkim to Ekuinas.
UMWOG will subsequently embark on a recapitalisation exercise via a rights issue of approximately RM1.8 billion, inclusive of Ekuinas' application of excess rights shares worth RM322 million. UMWOG intends to procure similar support from Permodalan Nasional Bhd (PNB).
Upon completion of the exercise, UMWOG's shareholding will comprise PNB and its managed funds (39.7%), Ekuinas (23.1%), Employees Provident Fund (12%), Lembaga Tabung Haji (2.4%) and others (22.7%).
UMWOG president Rohaizad Daus said the three companies can utilise their differing capabilities in the industry to better withstand market downturn, and combine their international network to improve competitiveness against global O&G players.
"The merger of the three companies is also timely in answering Petronas' call for consolidation of Malaysian O&G industry from 3,000 companies to 700," he added.