This article first appeared in The Edge Malaysia Weekly, on August 24, 2020 - August 30, 2020.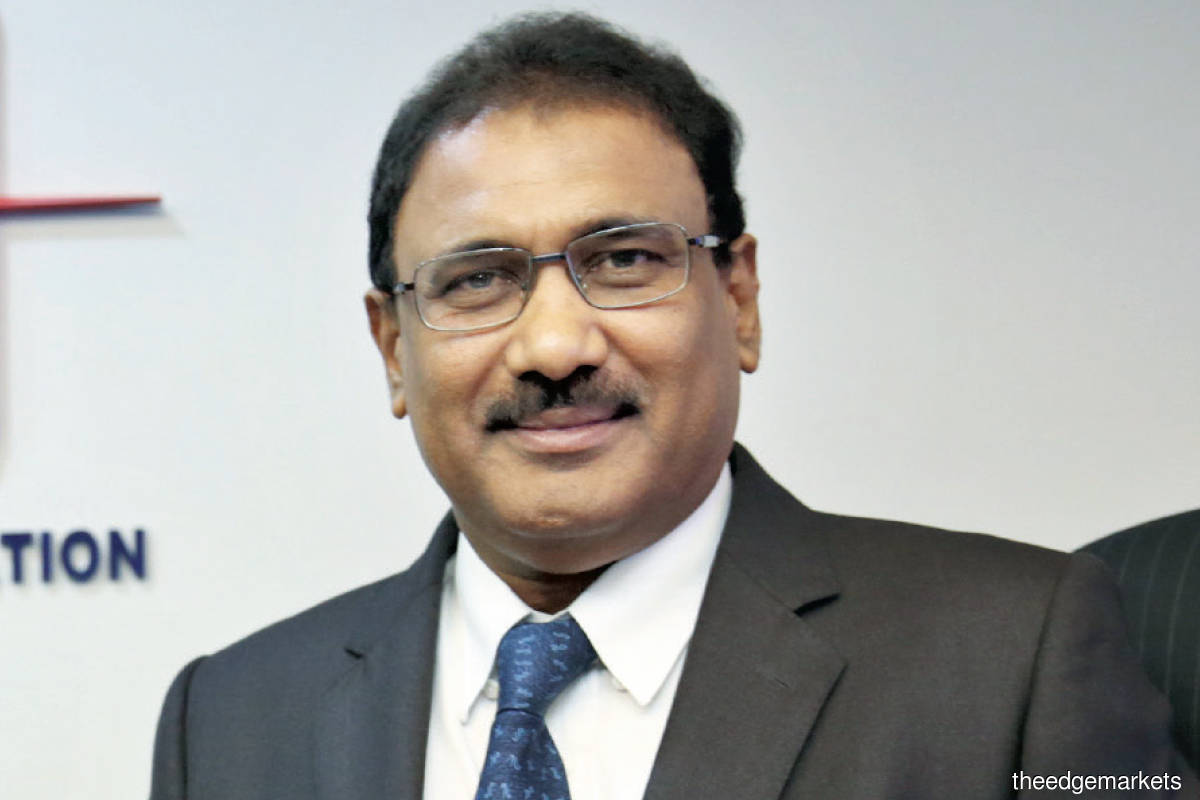 TO draw foreign investments to Malaysia's automotive sector, UMW Toyota Motors Sdn Bhd (UMWT) president Ravindran K contends that it is essential for the National Automotive Policy (NAP) to provide a standardised, long-range policy that benefits manufacturers.  He is also of the opinion that in addition to standardised incentives, fiscal measures such as tax exemptions that can reduce the cost of assembling and producing cars and auto parts here should be introduced to attract foreign investments.
"To attract foreign automakers to set up more assembly lines here, the cost of doing so must be lower than in any other country. Therefore, fiscal measures such as tax exemptions will prove suitable incentives for foreign investments," Ravindran tells The Edge in an email interview.
UMWT, one of the biggest players in the domestic automotive industry, was established in 1982 through a joint venture between Toyota Motor Corp and UMW Holdings Bhd. More than 1.5 million cars have been produced here since Toyota set up a plant in Shah Alam in 1968.
In 2016, UMWT spent RM1.8 billion on a second plant in Bukit Raja, Klang, which was designed to be one of the most advanced car assembly plants in the world. The plant began operations in January 2019, starting with the production of energy-efficient vehicles (EEVs) Vios and Yaris, the marque's best-selling models in Malaysia, contributing 56% of its sales this year as at end-July.
The second plant can produce 50,000 vehicles a year. UMWT projects an average utilisation rate of 64% this year because production was interrupted by the Movement Control Order (MCO) implemented to contain the spread of Covid-19.
Ravindran says the preference for Vios and Yaris among Toyota's current line-up shows that the market prefers EEVs. Thus, government policies should focus on positioning Malaysia as a regional hub for the manufacture of environmentally friendly vehicles, he adds.
Until end-July, UMWT had sold a total of 25,978 units, or 58% of its sales target of 45,000 units this year. It recorded its highest monthly sales last month, with 7,509 units sold, representing 70% more than the number sold in June.
The company believes it will be able to achieve this year's sales target provided that the special sales tax exemption is extended until the end of the year.
The Bukit Raja plant is among the biggest investments in the industry in recent years. When announcing the venture in 2016, UMWT executive director Akio Takeyama stressed that the plant would cater for bigger capacity requirements as well as ensure technological improvements.
Asked if Toyota will continue to invest in Malaysia, Ravindran says UMWT is continually exploring options aligned with the NAP to increase its footprint in the country, particularly in the introduction of new locally assembled models. Year to date, apart from the improved Toyota Alphard, Vellfire and Hilux, the all-new Lexus UX200 as well as Toyota RAV4 have been added to its line-up.
Hafriz Hezry, an analyst with MIDF Research, says in a June 16 report that there are gaps in Toyota's mass-market sport utility vehicle (SUV) offerings. "We had indicated the possibility of localising the CHR previously [a completely built-up unit is currently priced at RM150,000], but we expected this to happen only after the facelift is launched.
"The two CKD launches will coincide with the 6½-month tax holiday. This should give UMWT a strong total industry volume uplift in 2H2020 and contribute towards Bukit Raja's pre-tax breakeven."
(UMWT had previously indicated that there would be two CKD launches this year.)
Malaysia has been losing investments to its neighbours for a while now. Last November, Hyundai Motor Co announced it would invest US$1.55 billion (RM6.47 billion) in an assembly plant in Bekasi, Indonesia — the first Hyundai-owned plant in Southeast Asia.
In Thailand, Toyota's three plants already boast a combined annual production capacity of 770,000 units. In 2018, the company — which began production in Thailand in 1962 — rolled out its 10 millionth car in the country.
How does Toyota view Malaysia's position in Southeast Asia? Ravindran says that in terms of production, the Japanese carmaker regards Malaysia as an important market with one of the most advanced plants globally.
"With 45% automation over two shifts, it serves as a practical implementation of the future of automotive manufacturing. The technological spillover will undoubtedly enhance the possibility of more plants like Bukit Raja opening in the future," he adds.
The automotive segment is the largest contributor to UMW Group's revenue and profit. However, because of the MCO, revenue and pre-tax profit for the segment plunged 26.7% and 56.8% year on year (y-o-y) in the first quarter ended March 31 to RM1.59 billion and RM53.7 million respectively.
UMW recorded a net profit of RM44.3 million for the quarter, 48% lower than the previous corresponding quarter, on revenue of RM2.12 billion, 23.8% lower y-o-y.
MIDF Research's Hafriz has a "buy" call on UMW at a sum-of-parts derived target price of RM3.40, which is at the high end of the range. The lowest is RM1.80 by Kenanga Investment Bank Research.
According to Hafriz, key catalysts for the group include a turnaround in group earnings from the third quarter, driven by the automotive division, potential launches of mass-market CKD SUV models as well as the commencement of the Trent 7000 aircraft engine assembly in the fourth quarter of the year. "The key risk to our call is a second wave of the pandemic and a weaker-than-expected demand recovery," he says in the report.
Encouraging spurt in auto sales may not be sustainable
Is the heightened demand for passenger vehicles sustainable beyond the short-term spike fuelled by Putrajaya's special incentives to spur the economy?
Talking to industry players, it is unclear if the bullishness is sustainable.
While the loan moratorium and sales tax exemptions have undoubtedly boosted sales, an industry observer says many consumers purchased a car so that they need not take public transport.
"So a lot of this is fuelled by the loan moratorium and especially the tax holidays, but there are also sales from people who are avoiding public transport due to the coronavirus.
"You may ask why don't they buy a used car, and the answer is they do because the used car market had 100% growth in July. But there are still many who prefer new, and with the tax holiday and cheaper financing, the monthly repayment will not be a huge difference," the observer explains.
He adds that the second half of 2020 will see a rebound in sales of huge proportions and this will also be fuelled by the introduction of new models.
According to him, a true reading of Covid-19's impact on car sales will only be seen after the Chinese New Year celebrations in 2021.
"I think we have seen a movement where domestic consumption is helping to prop up the economy.
"Yes, there are job losses and things are very tough for many sectors, but look at any given weekend or social media and you will see Malaysians still travelling internally and spending on non-essentials by going out and shopping online," says the industry observer.
Domestic automotive sales have been on an increasing trend since April. July sales were 13% higher year on year (y-o-y) at 57,552 units, compared with 50,854 units previously, while in June, the 44,695 units sold was 5% more y-o-y.
Although only 22,960 units were sold in May, it still marked the first month of a semblance of normalisation as a mere 143 cars were sold in April when the Movement Control Order to curb the spread of the pandemic was at its tightest.
In the first half of the year, total industry volume (TIV) sales amounted to 174,675 units — a significant 41% plunge over the same period last year.
Datuk Francis Lee Kok Chuan, managing director of Bermaz Auto Bhd, agrees that the spike in sales was due to the incentives given by the government to boost consumption and to jump-start the economy after the six-week near shutdown of businesses from about mid-March to early May.
The government had announced a six-month loan moratorium on personal loans, between April and September, which had released a huge amount of money tied up in servicing the loans for consumption. The government had also announced sales tax exemption on the purchase of locally assembled cars until the end of the year.
"It's more to do with the SST (Sales and Services Tax) exemption. Sales are pretty good but margin is affected as distributors are also expected to subsidise via promotional offers.
"Like Mazda, we give a 6+6 promotional offer — six years of free service maintenance programme and also six years of warranty. Others give an upfront discount. So [sales] should be good until the end of the year," Lee tells The Edge.
The Malaysian Automotive Association (MAA) recently raised the 2020 TIV forecast to 470,000 units from 604,287 in 2019, which is still 22% lower y-o-y.
Moving past 2020, MAA sees 2021 to 2022 TIV improving to between 550,000 and 600,000 units on the back of an improvement in domestic spending as the global economy recovers.
But sounding a note of caution at the Affin Hwang Auto Virtual Conference, MAA president Datuk Aishah Ahmad warns that the economic downturn, weaker consumer and business sentiments and high unemployment rates could impede auto sales.
Stringent loan approvals for the purchase of passenger vehicles and a highly saturated domestic automotive market are other factors that could pressure sales towards the downside.