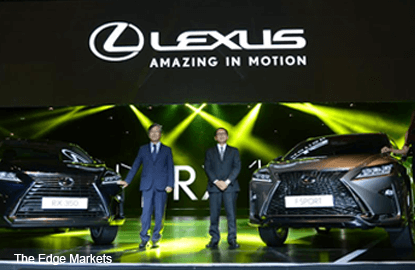 KUALA LUMPUR (Jan 6): UMW Toyota Motor Sdn Bhd sold 95,861 vehicles last year, 7.5% lower than the 103,636 units recorded in 2014, amid market uncertainties due to the implementation of the goods and services tax and a slowdown in the local economy caused by the fluctuating ringgit.
The company's two brands, Toyota and Lexus sold 93,760 and 2,101 units respectively last year.
"Sales of the Toyota models reached 93,760 units amid the tough market situation, which were mainly contributed by the popular Toyota Vios with close to 34,000 units sold. Other popular models were Hilux double cab and Corolla Altis, with 24,000 and 8,000 units sold respectively," said UMW Toyota Motor in statement today.
In addition, the company's first locally assembled Camry Hybrid sold over 5,000 units.
On the luxury segment, Lexus Malaysia posted record sales in 2015 with 2,101 units sold.
UMW Toyota Motor said this was mainly contributed by its popular premium compact sport-utility vehicle, the Lexus NX, which was launched early of the year.
"Over 1,100 units of Lexus NX were sold, representing more than half of total Lexus sales. Other Lexus models contributed to the number were the Lexus ES range and the recently launched all-new Lexus RX model," said the company.
UMW Toyota Motor deputy chairman Akio Takeyama said last year, it rolled out new and strong reinforcement of sales and marketing initiatives which involved many activities to excite the market.
"The newly launched Lexus models, especially the Lexus NX, Lexus ES and the all new Lexus RX have given a give a boost to Lexus position in the luxury vehicle segment No. 3," he said.
UMW Toyota Motor president Datuk Ismet Suki said moving forward, UMW Toyota Motor is a little cautious by looking at the current sales trend, but remains positive with our target for 2016.
"This is due to the full year sales of models being launched last year and also new model that are in the pipeline for launch this year.
"We will continue to bring exciting product and many interesting activities throughout the year for our customers," he added.