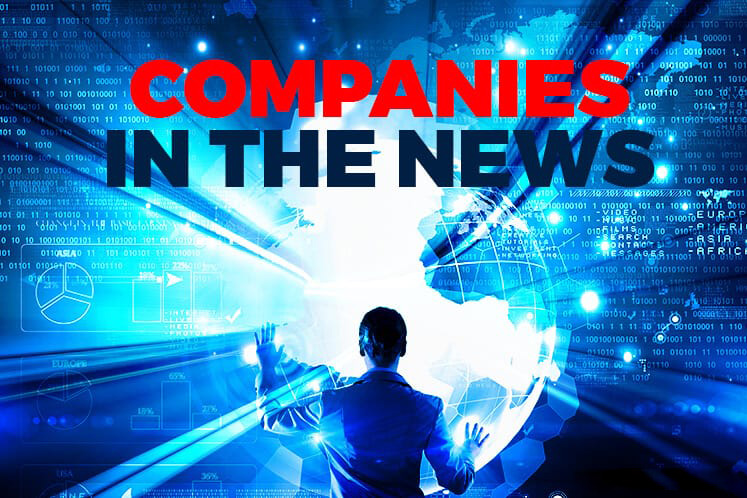 KUALA LUMPUR (March 8): Based on corporate announcements and newsflow today, stocks in focus on Monday (March 12) could include UMW Holdings Bhd, Keck Seng (M) Bhd, Muhibbah Engineering (M) Bhd, Heitech Padu Bhd, Tenaga Nasional Bhd and Sasbadi Holdings Bhd.
UMW Holdings Bhd is amassing a controlling stake in Perusahaan Otomobil Kedua Sdn Bhd (Perodua), in an exercise that would involve taking MBM Resources Bhd private.
UMW said it plans to acquire a 50.07% stake in MBM Resources Bhd for RM501.04 million cash, and intends to follow up with a mandatory takeover offer for the rest of its shares.
However, there is "no uncertainty" that UMW will follow through with the takeover offer, it said. Its initial offer for the controlling stake in MBM will close on March 28.
MBM holds an effective stake of 22.58% in Perodua. The company distributes vehicle brands including Perodua, Daihatsu, Hino, Mitsubishi, Volkswagen and Volvo. It also manufactures automotive parts such as heels, airbags, seat belts, steering wheels and noise, vibration and harshness products, with Malaysia as its principal market.
Additionally, UMW also plans to acquire another 10% in Perodua from PNB Equity Resources Corp Sdn Bhd. The group currently holds a 38% stake in Perodua via UMW Corp Sdn Bhd, and the two deals will increase its participation in Perodua to 70.58%.
UMW said that it will acquire a 49.5% stake in MBM from Med-Bumikar Mara Sdn Bhd and another 0.57% from Central Shore Sdn Bhd.
Keck Seng (M) Bhd wants to invest €25 million (RM121 million) in European hotel operator AccorInvest Group SA.
AccorInvest, said Keck Seng, currently boasts a portfolio of 891 hotels in the economy and mid-scale segments, located mostly in Europe. Of the total, 324 are owned and 567 are operated under fixed or variable-rent leases.
The group said it has signed an equity commitment letter today (March 9) to invest the sum in AccorInvest, which is a unit of French multinational hotel group Accor SA — known for the AccorHotels chain. "It is the intention of Accor SA to sell a majority stake in AccorInvest to investor," it said.
It added that it will set up a special purpose vehicle with other investors for the share acquisition — but did not state the equity percentage it is acquiring. It expects an agreement to be finalised and signed by the respective parties by the second quarter of 2018.
Muhibbah Engineering (M) Bhd has bagged an RM57.6 million contract from Prasarana Malaysia Bhd for engineering work on the Light Rail Transit Line 3 (LRT3).
The award was accepted via a joint venture that the group has a 49% stake in.
The contract will be for the design, supply, delivery, installation, testing and commissioning of noise barrier for package NBE (E) of the LRT3 from Bandar Utama, Petaling Jaya to Johan Setia, Klang.
"The construction works for the contract is to commence immediately and is expected to be completed by the third quarter of 2020," it said.
IT systems company Heitech Padu Bhd has secured a contract with Permodalan Nasional Bhd (PNB) to outsource its services for RM27.14 million.
The agreement was entered into between the parties on March 1 for the outsourcing of IT services, comprising application services, data centre services, disaster recovery services, desktop management services and helpdesk services.
Heitech Padu added that the contract is for a period of 2 years commencing from Jan 1, 2018 till Dec 31, 2019. "Any further renewal or extension of the contract is at the discretion of PNB," it said.
Tenaga Nasional Bhd (TNB) has slapped Gamuda Bhd's water unit with four writs of summons together with statements of claim for failing to pay its electricity bills.
Gamuda Water Sdn Bhd, an 80%-owned unit of Gamuda, received the four suits — with electricity bills totalling RM39.51 million — on March 1.
TNB is also claiming an annual interest of 5% on the claims, to be calculated from Jan 31, 2018 to the date of full settlement by Gamuda Water, costs and other relief deemed fit by the High Court.
Gamuda however said, "the outstanding electricity bills have been fully provided as and when they are incurred".
Sasbadi Holdings Bhd has secured three textbook publishing and printing contracts for Year 3 of the Chinese primary schools from the Ministry of Education for a total of RM6.53 million.
Sasbadi said its directly-owned subsidiary Sasbadi Sdn Bhd, has accepted two letters of acceptance for publishing and printing a Mathematics textbook for RM2.89 million and an Arts Education textbook for RM722,045.
Meanwhile, its indirectly-owned subsidiary The Malaya Press Sdn Bhd has accepted an LoA from the ministry for the publication and printing of a Chinese language textbook worth RM2.92 million.
The three contracts are for a period of two years from March 9, 2018, to Dec 31, 2020.