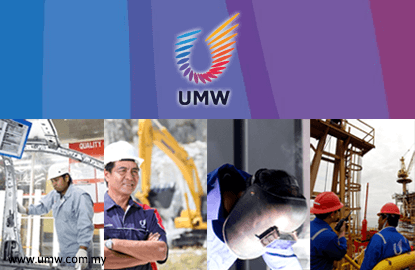 This article first appeared in The Edge Financial Daily, on March 17, 2016.
KUALA LUMPUR: UMW Holdings Bhd is likely to drop from the list of 30 component stocks of the FBM KLCI as its market capitalisation has shrunk more than a quarter over the past year, no thanks to the continued decline in its share price since August 2014.
UMW Holdings' share price closed at RM6.50 yesterday, its share price shedding nearly 38% from RM10.38 a year ago.
In a report yesterday, Hong Leong Investment Bank Research (HLIB Research) said UMW Holdings is at risk of being excluded from the FBM KLCI constituents as its free float market capitalisation has dropped to 38th spot, lower than the minimum 36th spot in the upcoming review on June 30.
According to HLIB analyst Daniel Wong, UMW Holdings' share price is unlikely to recover much and climb above the 36th spot as there were lack of near-term catalysts.
UMW Holdings was hard hit by a double whammy — soft auto sales and the downturn in the oil & gas (O&G) sector after the oil rout.
Already, UMW Holdings has dropped from most analysts' recommendation list. Among the 17 analysts who track the group, seven has a "hold" recommendation on the stock, while 10 have a "sell" call on the stock, according to Bloomberg.
Analysts have slashed their earnings forecasts for the financial year ending Dec 31, 2016 (FY16) by 20% to 50%, while FY17's was trimmed 28% to 40.5% after the release of the group's fourth quarter earnings.
Its net profit for FY15 came in below consensus expectations.
The group swung to a net loss of RM38.93 million compared to a net profit of RM651.97 million in FY14 due to RM337.7 million impairment loss, while revenue slipped 3.4% to RM14.41 billion in FY15 from RM14.93 billion in FY14.
Going forward, Wong expects UMW Holdings to continue to face deteriorating market conditions for its automotive and O&G (including valued business) divisions.
Toyota had raised prices across all its car models in Malaysia last year. Wong expects its margin on the automotive segment to remain weak this year because of stiff competition plus high marketing and distribution costs.
He said the full-year impact of a weaker ringgit against the US dollar will also weigh down the earnings.
On UMW Holdings' automotive segment, Wong said its 51%-owned Toyota has set a lower target of 87,000 sales (including 2,000 sales from Lexus) for FY16 as compared with FY15's 95,900 sales (including 2,100 sales from Lexus).
Meanwhile, he expects UMW's 38%-owned Perusahaan Otomobil Kedua Sdn Bhd (Perodua) likely to perform weaker in FY16 despite a higher sales target of 216,000 units versus 213,300 last year, given lower revenue mix and full-year impact from the ringgit depreciation in FY16.
On the O&G segment, Wong said the weak oil price at US$30 to US$40 per barrel has affected the profitability of 55.7%-owned UMW Oil & Gas Corp Bhd and the O&G valued business.
Wong also raised concerns about UMW Holdings' affordability of dividend payments as a result of the poor earnings.
He said the total dividend for UMW in FY15 was 20 sen, which is a near record low for the past 10 years.