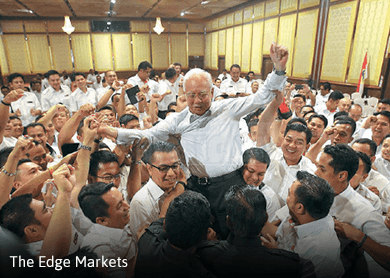 KUALA LUMPUR: The meeting between Datuk Seri Najib Razak and Umno Youth division chiefs yesterday ended on a jubilant note with Youth members hoisting the party president on their shoulders and chanting slogans in a show of support.
Apart from shouting slogans like "Sokong Tetap Sokong" (Our support is unwavering) and "Hidup Datuk Seri" (Long live Datuk Seri), the exuberant members also ironically chanted the opposition slogan "Lawan Tetap Lawan" (We'll fight on).
Many broke out into the ruling party's rallying song "Inilah Barisan Kita" at the end of the meeting yesterday afternoon.
The meeting came as former prime minister Tun Dr Mahathir Mohamad continues his searing attacks on Najib's leadership.
Umno Youth chief Khairy Jamaluddin said the Youth wing had asked that the investigation on debt-ridden 1Malaysia Development Bhd (1MDB) be hastened and action be taken against those involved if there was any evidence of breach of trust.
He said the prime minister has agreed with their suggestion.
"If there is any evidence of breach of trust, stern and swift action will be taken against those involved," Khairy said in a press conference after the meeting.
Khairy said Najib had answered all issues raised by Dr Mahathir during the meeting.
"He answered one by one questions raised by Dr Mahathir, and answered other issues too... there are answers which needed more details because the interview on television was limited by time," he said, referring to Najib's interview on TV3 last week.
He said Umno Youth did not see the situation in the party as a crisis as it had faced far greater challenges, especially after then deputy prime minister Datuk Seri Anwar Ibrahim was sacked from the party.
"We don't see today's crisis being as big as the 'reformasi' era," he said.
Khairy added that Umno Youth didn't blindly support Najib.
"If we give blind support to leaders whose opinions can't be defended, not only will the leader fall, but Umno's ship will also sink in the next election," he said when responding to a question on Umno leaders' sincerity in supporting Najib.
"If we give fake support, we are lying to ourselves," he added. — The Malaysian Insider
This article first appeared in The Edge Financial Daily, on April 14, 2015.