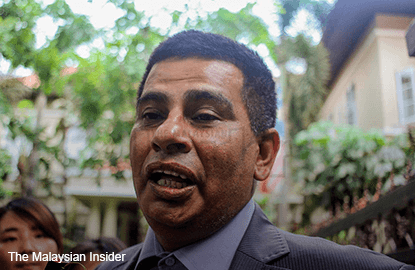 (Aug 5): With the special task force investigating 1Malaysia Development Bhd (1MDB) now appearing to be toothless, an Umno leader is urging Putrajaya to ensure that the three enforcement agencies involved remain focused on uncovering alleged corruption in the debt-ridden state investor.
Datuk Abdul Aziz Sheikh Fadzir, the Kulim Bandar Baru MP, said the police, Bank Negara Malaysia and the Malaysian Anti-Corruption Commission (MACC) should stop their disputes and re-focus attention on investigating the Finance Ministry-owned firm according to their respective scopes.
This follows the arrests and questioning of MACC officers and an officer from the Attorney-General's Chambers (AGC) on Saturday, as well as a raid on the home and office of one of the MACC personnel.
The task force saw a change to one of its key members when Tan Sri Abdul Gani Patail was abruptly replaced as attorney-general.
"I ask that the special task force coordinate again so that there is no dispute between all three agencies," he told The Malaysian Insider.
Aziz, who is also Kulim Umno division chief, said police, Bank Negara and the anti-graft agency seemed to be at odds with one another.
"The police are seen as if they are applying pressure on MACC and Bank Negara, as though they are not on the same page as the government," he said.
The special task force was announced soon after The Wall Street Journal (WSJ) reported on July 2, citing documents obtained from Malaysian investigators, that some US$700 million (RM2.6 billion) from 1MDB-linked companies had been deposited into Prime Minister Datuk Seri Najib Razak's personal bank accounts.
Najib had then denied taking money from 1MDB for personal gain, but did not directly address the fund transfers.
The task force was set up to investigate 1MDB as well as the allegations by WSJ.
On Monday night, the MACC announced that the RM2.6 billion in Najib's accounts was not from 1MDB, but were political donations.
In what appeared to be a departure from the task force's original mandate, MACC also announced that it was still investigating a former 1MDB subsidiary, SRC International Sdn Bhd, while police were probing 1MDB.
Bank Negara meanwhile, was investigating financial methods and procedures.
Coordination between the agencies in the task force appears to be disorderly.
Amid last week's sudden change of A-G, the central bank denied rumours that its governor, Tan Sri Zeti Akhtar Aziz, had resigned.
The arrests and questioning of AGC officer Jessica Gurmeet Kaur, former MACC adviser Tan Sri Rashpal Singh and MACC deputy public prosecutor Ahmad Sazilee Abdul Khairy were then carried out as part of the police's probe into leaks of 1MDB investigation documents to third parties.
MACC director of special operations, Datuk Bahri Mohamad Zin, was also questioned on Monday over the same matter, as were two senior officers from the agency.
A frustrated Bahri denied the leak had come from MACC, and even called the whole episode "mad", adding that police would not have acted unless they were "forced" to.
Inspector-General of Police, Tan Sri Khalid Abu Bakar now said that police would not discount the possibility of investigating more MACC and Bank Negara officials as well.
Aziz said that if such actions continued, the public would lose even more trust in Malaysia's enforcement agencies.
"I'm concerned that such a crisis of confidence will make our people lose trust in our country's enforcement agencies.
"In the end, the people will choose to march on the streets. We do not want what happened in Tunisia, Egypt, Syria and Iraq to happen in Malaysia because the people feel pressured and lose confidence in institutions," he said.
Aziz said the people's loss of confidence in the country's institutions was even more worrying than their loss of faith in political parties.
"Never mind if they do not believe the political parties, but it is very dangerous if they do not trust the enforcement agencies that are tasked to ensure security and transparency.
"Never mind if they do not believe in Umno or Barisan Nasional as these are political parties, but do not allow the people to reach a stage where they do not believe in the existing system. I am afraid this may cause them to lose their judgement," he said.
"The government needs to take speedy action, so that the IGP, the MACC commissioner, the Bank Negara governor and the A-G can quickly stop problems between the agencies," he added.
MACC's clearance of Najib and the police actions against its officers also led several civil society representatives to express concern that the task force on 1MDB was "as good as dead" and that there was little chance left for a thorough probe. – The Malaysian Insider