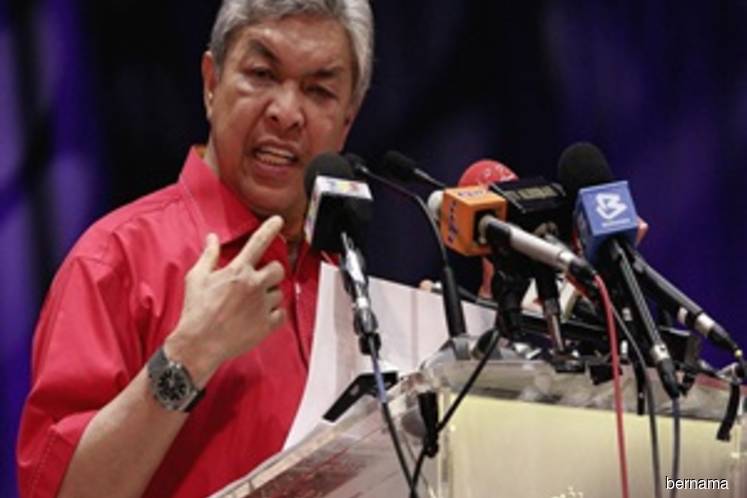 KUALA LUMPUR (May 14): Umno has given its acting president Datuk Ahmad Zahid Hamidi the green light to negotiate with other political parties on forming the government or opposition blocs.
Zahid said the Umno supreme council, which decided this at a meeting today, imposed the condition that negotiations must be carried out "en bloc".
"We see that [Pakatan Harapan] is facing some problems [in forming the government... We will muster all our strength during negotiations with everyone, government or opposition.
"The interests of Umno and Barisan Nasional will be prioritised. We must make sure we can rise again with other component parties in BN," Zahid told a press conference at the Umno headquarters.
He said this in light of reports of Umno and other BN component party members affiliating with Pakatan at both the state and federal levels, after BN's surprise loss in the general election last Wednesday (May 9).
"I know there are people who say they are still Umno members, but are aligning themselves [with Pakatan] to help form the state government in their states.
"They are automatically removed as an Umno member for supporting a government which is not Barisan Nasional," Zahid added.
Out of BN's 78 parliamentarians now, 54 are from Umno, making it the single biggest political party.
Meanwhile, Zahid denied meeting PKR de facto leader Datuk Seri Anwar Ibrahim yesterday, as speculated in social media.
A task force has been formed to revive Umno as a political force, to restructure the organisation and to formulate the steps forward, Zahid said.
"We hope [the] Umno division can conduct meetings during Ramadhan. Accept that we are the opposition. Help yourselves by strengthening the soul of our party's struggle," he added.
On Wednesday, BN was ousted at the polls at the federal level for the first time in history by Pakatan Harapan, led by former prime minister and former Umno president Tun Mahathir Mohamad.
Mahathir vouched to investigate government entities which may have practiced corruption during the tenure of his predecessor Najib, as well as throughout the course of the recent general elections.
Najib subsequently stepped down as Umno president and BN chairman on Saturday (May 12), due to mounting pressure from the Malay party's grassroots, following BN's failure in the recent elections.