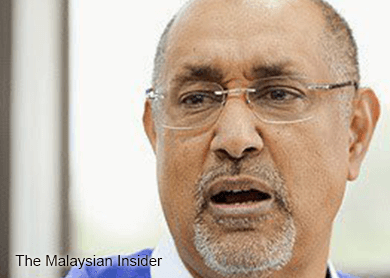 (June 26): Vocal Umno leader Datuk Seri Syed Ali Alhabshee today urged government-linked companies (GLCs) to stop advertising in The Edge business newspaper over what he said were inaccurate reports on Majlis Amanah Rakyat's (Mara) controversial property purchase in Australia.
Calling the reports "unethical" and able to "divert people's minds", the Cheras Umno division chief said The Edge could boost its readership but not by twisting facts on the property purchase.
He said any reportage on the transaction had to be from legitimate sources instead of following rumours.
"My patience has its limits but if it has reached to a level which can affect the good name of the country, then stern action should be taken against this newspaper (The Edge).
"I urged GLCs especially not to advertise in the daily which has clearly shown its irresponsibility in disseminating its news.
"The actions of the daily by publishing inaccurate reports on the purchase of Australian property can affect the country's name and economy. It can at the very least, affect investors' confidence towards the country," he said in an entry published by his division blog today.
In its expose of Mara's overpriced purchase of an apartment block in Melbourne, Australian daily The Age had said "a group of super-rich Malaysian officials" overpaid by A$4.75 million (RM13.8 million) for the property in 2013.
The trio had allegedly "overbid" for Dudley International House, from A$17.8 million to A$22.5 million (RM65.3 million), with the difference pocketed as bribes back home.
Australian developers of the property had received sham invoices for fake services such as "consultancy and advisory" from Malaysian firms, the paper said.
Two days ago, Mara chairman Tan Sri Annuar Musa said Mara had begun investigations into the multi-million ringgit purchase of the building by one of its subsidiaries two months ago, before the matter was highlighted by the Australian newspaper.
He also said the purchase of any property by the council had to go through procedures, including a final approval by the Finance Ministry or the Economic Council (EC), which Najib leads as finance minister and EC chair.
Syed Ali said today that The Edge, as a media practitioner, should not focus solely on profits but instead study the impact of its news on the country's economy and future.
"I cannot compromise anymore with The Edge and a few other websites like Sarawak Report and blogs like The Malaysian Insider and Malaysiakini which have clearly put aside journalistic ethics in their reports.
"In my view, the government has given enough room to the media and blogs to operate, but do not go to the extent of challenging the state's authority," he said.
Syed Ali said newspapers in the country needed to respect the country's media freedom and should be more responsible with their reports which should not be detrimental to the nation's interests.
He said the report on Mara's property transaction in Australia should be based on accurate information and official sources, adding that if the news was from unofficial sources, some quarters would take advantage of it or destroy the country's name.
He reminded Malaysians that there were countries that were "jealous" of Malaysia's economic stability and unity, with many surprised at how Malaysia could retain its unity among various races as there were countries with a single race and religion which were divided and in disarray.
"These jealous quarters will do whatever they can to split us internally.
"If their efforts including antagonising our leaders fail, they will use other methods to sabotage our economy. This includes using certain media and blogs for the benefit and interest of the masterminds to threaten the country's stability," he said.
Syed Ali added that GLCs should play their part in boosting the government's name and image among Malaysians.
He said GLCs had to watch out for the government's reputation by forging cooperation with media and blogs that were more ethical in their reports.
He also said that GLCs should not advertise with any media that had clearly diverted the people's minds with false reports. – The Malaysian Insider