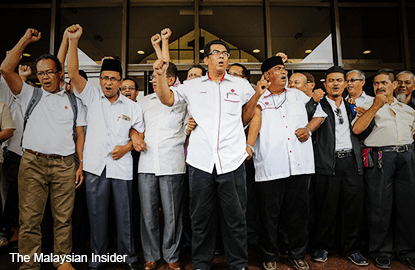 (Dec 2): The nine Teluk Kemang Umno leaders, who urged Datuk Seri Najib Razak to step down as party president last month, will know their fate in two weeks' time.
After a four-hour meeting with the Umno disciplinary board at the Putra World Trade Centre (PWTC) today, spokesman for the group, Kamarul Azman Habibur Rahman, said the board merely listened to their explanations today.
"We understand that a decision will be made within two weeks. Until now, there is no punishment," Kamarul told reporters at PWTC in Kuala Lumpur.
However, he said their actions were for the good of the party, adding they wanted to uphold the truth.
"We are united in wanting good for the party. Maybe our destination is the same, it is just that our approaches are different," the Taman TKK branch chief said.
Kamarul also said they did not know holding press conferences were against the Umno constitution.
"Overall what we have given and what we have been accused of have to do with holding the press conference and we explained that, in fact, most members do not understand the party constitution.
"But generally, we are satisfied with our explanation and feel relieved because we could voice our intentions for the good of Umno."
On Oct 24, Umno leaders from the Teluk Kemang division held a press conference to demand Najib's resignation, citing their loss of confidence in his leadership.
They said they represented 13 Umno branches – Kampung Linggi, Taman Selasih, Taman PD Utama, Taman Datuk Abdul Samad, Taman Suwa Betung, Kampung Teluk, Sungai Sekawang, Bukit Tembok, Taman Intan Duyung, Taman TKK, Kampung Pacitan, Bunga Raya and Taman Politeknik. – The Malaysian Insider